A wine and food affair? Yes, that would be a Tasting Along the Wine Road. This charming cookbook caught my eye the other day when we received a copy for Stark Insider from our dear friends of Northern Sonoma.
My iPad Mini handles most of my reading duties these days, but isn't it still nice to curl up with a real, honest-to-goodness, physical book on occasion? With autumn in the air and the weather cooling I found myself doing exactly that. At 300-pages and with plenty of eye candy, this cookbook is a simple pleasure. There are no celebrity chef tie-ins, no fast cars, and no outrageously Photoshopped models.
Each recipe is offered up alongside a wine from Northern Sonoma. There are four AVAs in this coastal wine region: Rockpile, Chalk Hill, Green Valley, Dry Creek Valley (which Clinton Stark covered in a multi-part series), Alexander Valley, and–likely the most famous–Russian River Valley.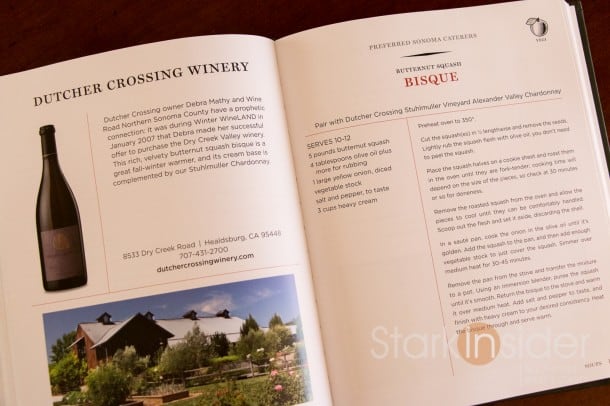 Of all the marketing promos, this one is really something special. Flipping through the book I was able to get a real sense of place. I did wish there were a few more foodie style shots alongside the recipes; nothing stirs the culinary senses more than a super high-res photo of duck confit, or ahi tuna.
ALSO SEE: Millennial Trendspotting: Is Wine Really Just for Special Occasions?
What exactly is the "wine road"?
Surprise, it's actually not a road (though Northern Sonoma does have them!). In fact, the Wine Road is a 30-year old association consisting of 180 wineries and 50 lodgings throughout the region–located just an hour north of San Francisco. As you might've guessed they're almost all represented in this cookbook. If you do attend the event itself, "A Wine & Food Affair," (Nov. 2-3) you'll not only receive a copy, but also be able to sample all of the recipes that the participating wineries will be serving up.
Because I'm a soup kind of mode these days, I thought I'd share Chef Jess McQuarie's (Feast Catering) delicious take on a classic:
 SMOKED BACON & LENTIL SOUP

Chef Jesse McQuarrie, Feast Catering

Pair with Ridge Lytton Springs Zinfandel

SERVES 6

2 tablespoons olive oil
4 quarts white onions, diced
2 quarts celery, diced
2 quarts carrots, diced
10 cloves garlic, minced
1/2 pound smoked bacon, chopped
2 bunches parsley, chopped and divided
2 bunches of thyme, chopped and divided
2 bunches basil, chopped and divided
4 quarts black lentils
6 quarts vegetable or chicken stock

In a stock pot, heat the olive oil over medium-high heat. Add the onions, celery, carrots, garlic, bacon and 1/2 of the herbs, and cook until the vegetables are translucent and the fat has rendered from the bacon.

Add the lentils and stir briskly. Add the stock, making sure the liquid covers the lentils by at least 2 inches. Bring the mixture to a simmer and cook until the lentils are tender, about 1 hour.

When the lentils are done, add the remaining fresh herbs and season the soup with salt and pepper to taste.
The suggested pairing for this one is a Ridge Zinfandel (2011, Lytton Spring) — a classic choice. Zin is one of Northern Sonoma's marquee varietals.
Kudos to the creative team behind the Tasting Along the Wine Road Cookbook: Elizabeth and Richard Pembroke, Chris Witkowski and Ivy White, Linda Murphy, Kelly McManus, and Lenny Siegel. Also worth noting is that the region's barrel tasting earlier this year raised $28,000 for the Food Bank.
WATCH: Top 5 Wine Personalities of 2013 (VIDEO)
Alas, this, Volume 15, is the very last printed edition of the book. Hopefully future ones will look just as tantalizing on my iPad Mini.
Stay tuned to Stark Insider for more. Our wine road adventure is just getting started…
MORE Sonoma Wine Country Coverage