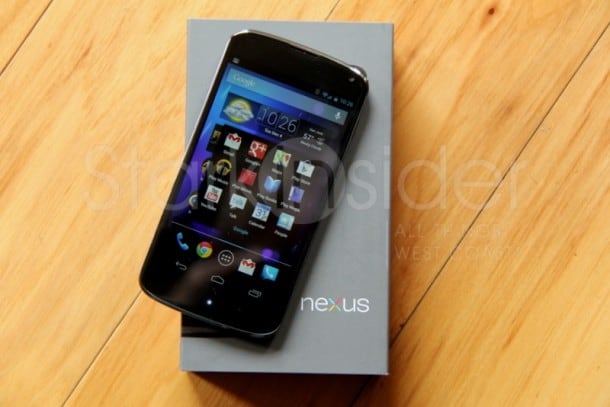 Nexus 5 is imminent. And @evleaks, the extremely accurate Twitter account and web site, just gave us the most complete snapshot of what to expect spec-wise.
Based on what I've been reading over the past few weeks, and from discussions I've had in and around Silicon Valley, I suspect there won't be any surprises here. I'm itching to upgrade my quite mediocre Nexus 4 (though, to be fair, the price unlocked was right). As I've said before I had hoped Google would give Sony, HTC, or even Lenovo a swing at the Nexus plate. But it looks like LG is again a lock to produce Google's "pure" flagship device.
Here's what (we think) we know, plus a bit of added commentary on my part:
Nexus 5
— Made by LG (disappointing, I like LG fridges and some of their TVs, but Nexus 4? Not too much)
— Snapdragon 800 CPU (okay, par)
— 4.95-inch 1080p display, 445ppi (great, 5-inch is the sweet spot, just large enough for things like Google Maps, but still manageable in the hand)
— 8MP with optical image stabilization (OIS, nice)
— 2300 mAh battery (slightly improved over Nexus 4. With KitKat s/w optimizations we should see better battery life, finally)
— Bluetooth 4.0
— Dual-band 8021 a/b/g/n/ac
— 8.5mm thickness
Not a game change, by any means.
Then again, 2013 is the incremental year. You know when color (i.e. customizable Moto X and gold iPhone 5S) becomes a big selling feature, you're in a cycle with not that much innovation to speak of.
I'm still convinced we're in the "Incremental Era" when it comes to mobile, especially when it comes to upgrade cycles for tablets and smartphones. Incrementalism doesn't sell headlines. But it's the truth. We saw the invention of not one, but two entirely new categories in just six years: the smartphone (iPhone, 2007) and the tablet (iPad, 2010). Yes, both at the hands of Steve Jobs. So it's understandable that we take a collectible breather; refine apps, refine hardware, refine user experience. Meanwhile, early adopters are turning to things like Google Glass and (ridiculous) digital watches to entertain. Wearable computing? Not sure about that. But it makes for grand spectator sport.
Google Nexus 5 by LG: Snapdragon 800, 4.95″ 1080p (445ppi), 8MP w/ OIS, 2300mAh, BT4.0, dual-band 802.11a/b/g/n/nc, 8.6mm, 4.4KK

— @evleaks (@evleaks) October 29, 2013
While likely not a jaw-dropper the Nexus 5 will do what it needs to do: keep the Android faithful on its side. Nexus 5 has a larger screen, better battery; and it's faster. That's all good. The iPhone 5S was also incremental. Nothing overly-dramatic. I still find Apple's emphasis on smaller screens somewhat short-sighted. And wireless charging? Might not seem like a big deal. But every day in the office, and then later at night on the nightstand, my Nexus 4 is on a Qi charging pad. Cable free. A beautiful thing!
Now all we need to know is…
When?
I'm not convinced the Halloween rumor is right. Or even that we'll see the device in October, at all. Only three days remain.
Based on past history with the Nexus brand, a November reveal is not entirely out of the question. We could see it as early as this Friday (Nov. 1).
Expect Nexus 5 prices to start at $349 with 16GB. For a leading edge phone, running the latest version of the world's best mobile OS, that's still the sweetest deal going. I'm all in.