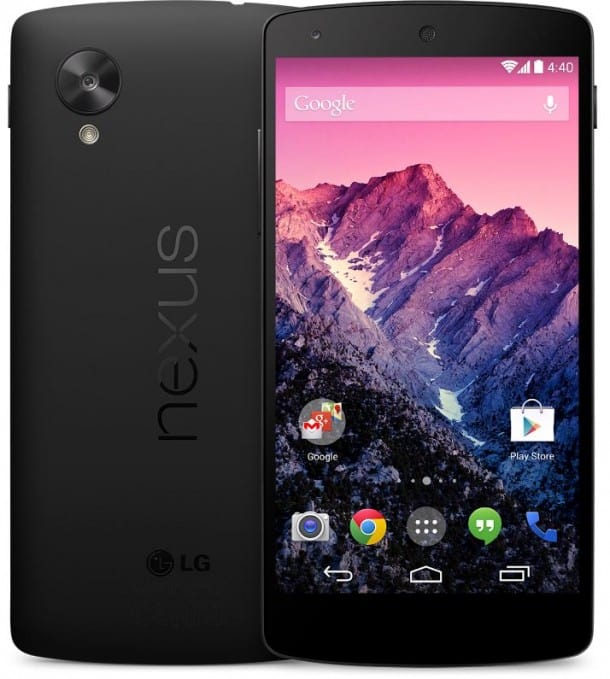 The Nexus 5 is here.
Google revealed the new Android smartphone at a low key presser in San Francisco. There was no exuberant launch party, no grand reveal featuring rappers, and over-produced video segments. Thanks to Google for keeping this Halloween cringe-free (so far).
Nexus 5 goes on sale tomorrow. $349 for 16GB. $399 for 32GB.
As expected, the flagship Android made by LG, comes with a 5-inch HD IPS display (actually 4.95-inch) with Gorilla Glass 3. Everything else is also consistent with the torent of leaks that leaked and "leaked" over the past few months: 2,300 mAH battery, Qualcomm Snapdragon 800 processor with an Adreno 330 GPU. 1.3MP camera on the front, 8MP on the rear. It's available in black or white… and, thankfully, no gold.
It's decent enough.
But, much like the iPhone 5S, the Nexus 5 feels fare more evolutionary than it does revolutionary.
Such is the state of mobile in 2013. We had massive, massive game changers in the last five years. In 2007, with the iPhone, the modern day smartphone product category was created. Then again, in 2010, we saw the intro of another category, again at the hands of Steve Jobs and Apple. With the iPad, the tablet was born, and it would go on to crush the PC.
Though I really like my iPad Mini (and Microsoft Surface too), when it comes to smartphones I've been all-aboard the Android train since I ditched my BlackBerry for a Motorola Droid (OG) in 2009. Best move ever. Then I went for the Galaxy Nexus, and then the Nexus 4. LG has been my least favorite manufacturer when it comes to Nexus phones. I wish Google had given Sony, or HTC, or in-house Motorola a shot — any of them could've produced far more interesting hardware.
Still I'm upgrade-ready. Nexus 5 it is.
My favorite part is the larger screen. I use my Nexus all the time for navigation. Getting around the San Francisco Bay Area can be a real slog. Not a day goes by when I'm not running Google Maps or Waze.
I also like that the glass back is no more. Yes, it looks good. But the Nexus 4 was quite the fragile one. I'll take plastics anyday.
The wild card is Android 4.4, aka KitKat.
I haven't had any hands on time yet. I suspect, much like the Nexus 5 hardware, the OS will also be an incremental update. The fact that this is not a 5.0 release should provide a partial clue as to Google's ambitions. I have to admit I'm not really wanting for anything these days. Android is simply fantastic. And Google has refined the Play Store to the point where it can finally go toe-to-toe with anything that comes out of Cupertino. That wasn't always the case. Back in 2009/2010 it was like walking through a bad neighborhood. Now, it's glossy. And the apps? They are there in spades. The margin that Apple once held over Google has rapidly decreased, to the point where quality of apps doesn't really factor much into buying decisions.
When all is said and done, I think with the Nexus 5 Google has a holiday hit on their hands.
At that to my list of 2013 drool-worthy tech that includes: the Nexus 7, Blackmagic Pocket Cinema Camera, Sony PlayStation 4, and Ferrari F12. At least one of those is a total dream.