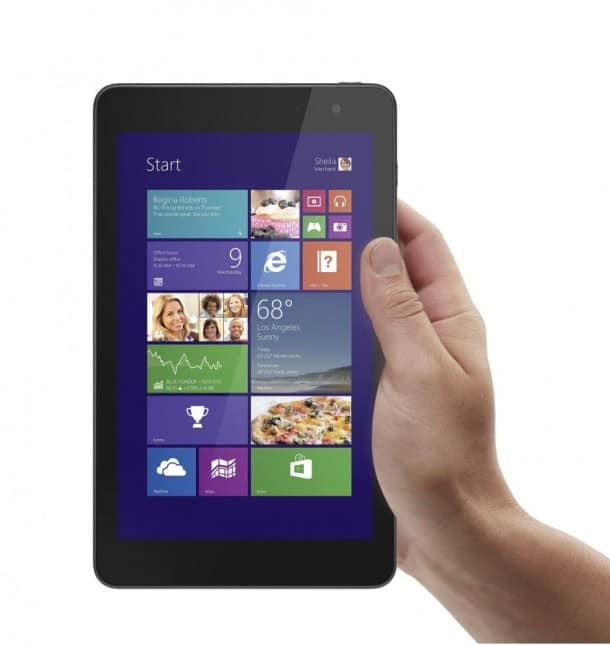 Okay I confess: I've come to really like Windows 8. Over a beer I might even go so far as to say I actually love it.
More often than not it's the Surface Pro that I grab when I'm able to enjoy some down time and catch up on the news, social networks and some magazines (Is the new Fast Company great or what?!).
Yes, it took me a while to get accustomed to off-screen swiping gestures that pull up various menus and controls. Now I find Microsoft's interface remarkably intuitive. And unlike Android and iOS, this approach almost entirely eliminates permanent on-screen controls, thereby making more room available to the apps.
Speaking of apps, one word: Bing. Don't cringe! Really. Trust me (famous last words). The Bing apps (news, finance, health, sports) on Windows 8 tablets are simply fantastic.
However, there are at least a few things I don't like about my first-gen Surface Pro: the price, and the bulk.
But Dell–of all people–may very well have solved all of that with their new Venue 8 Pro. Yes, I'm writing about Dell. Maybe for the first time since the 1990's.
When I read the press release and specs of the Venue 8 Pro, a tidy 8-inch tablet that runs Windows 8.1 (the full blown version, not Windows RT), a voice whispered out of no where, winner, winner, chicken dinner.
Let's fact check this one…
For less than the price of an iPad Mini (possibly the best tablet on the market today), the Venue 8 Pro gives me 32GB RAM, decent cameras (1.2MP front, 5MP rear), respectable IPS display (1,280 x 800), SD card slot (yes!), micro USB (again yes! no proprietary connector). Plus, as I already mentioned, this tablet ships with Windows 8.1. The real deal. Not that I'm about to run Premiere Pro on the thing, but it is nice to be able to run stuff like the Sonos controller in Windows — there's no official Win8 app available yet.
I saved the best for last. The price:
$299.
That's less than the iPad Mini, but, true enough, more than the Andr0id-powered Nexus 7. But the Venue 8 brings a lot to the table. Those in the market for a small tablet have some excellent choices:
"The Bargain" – Nexus 7 ($229)
"The Gold Standard" – Apple iPad Mini ($329)
"The Underdog" – Dell Venue 8 Pro ($299)
Barring a hands-on test to confirm performance, the only remaining question I have about the new Venue is battery life. The Nexus 7 and iPad Mini are both impressive in this regard. If Dell can match them, or at least come close enough, my next tablet decision is going to be a slam dunk.
Dell and Microsoft.
Who would've thunk?
Now, I need to go find that Gin Blossoms CD…
Engadget posted this Venue 8 Pro and Venue 11 Pro hands-on video. Have a look: