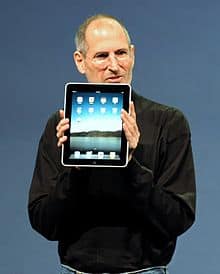 No keyboard, no problem.
Turns out the death of the PC is no exaggeration. According to IDC, tablet shipments will surpass PC shipments in Q4 of this year.
At 27.8%, however, the growth of the overall device market, which includes tablets, PCs and smartphones, slowed slightly this year (down from 30.3% in 2012).
According to the report total shipments will surpass 2 billion units by the end of 2015, generating a market value of $735.1 billion.
Tablets are projected to grow the fastest, 78.9% from 2013-2017, while PCs are forecast to fall 8.9% over the same period.
Writing about the news on AllThingsD, Ina Fried noted that Steve Jobs had it right all along:
"When we were an agrarian nation, all cars were trucks, because that's what you needed on the farm," Jobs said at our D8 conference in 2008. But, he went on, as we became a nation of cities, cars gradually overtook trucks, and became the dominant form of transportation.
Growth, though, is likely to come from the non-premium end of the market.
"At a time when the smartphone and tablet markets are showing early signs of saturation, the emergence of lower-priced devices will be a game-changer," said Megha Saini, a research analyst at IDC.
Apple's new iPhone 5C, priced at $99 (16GB), is an attempt to lure buyers, especially those in emerging markets, who would otherwise be stuck buying lower cost feature phones.
Predictably, prices continue to fall.
The average selling price for the aggregate market fell. IDC forecasts it will decrease from $462 to $323 by 2017. It's hard to tell exactly what that'll mean for individual product categories as that figure includes PCs, smartphones, and tablets. Suffice to say, things are getting cheaper, and faster by the day. Moore's Law anyone?