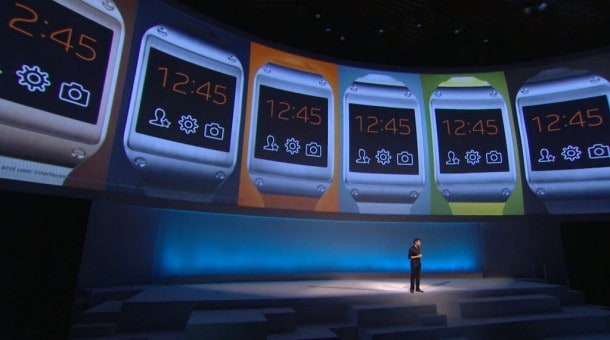 A "new era of augmented reality" begins today.
Samsung has launched its long awaited Galaxy Gear smartwatch ($299). This product, which features a 1.63-inch Super AMOLED screen and comes in six colors, could very well test consumer's taste for wearable technology. Analysts and critics alike are watching carefully to see if there's room in a crowded mobile tech market for yet another product. The outcome is far from assured.
If Gear succeeds, expect 2014 to see a non-stop parade of wearable tech products. Google Glass most famously should launch sometime in the first half.
"You don't have to take your smartphone out anymore."
Samsung says it has "reinvented a centuries old object." With smartphones nearing saturation in most first world markets, manufacturers are looking for growth opportunities. The wrist is an interesting place to start. After all, the smartphone is widely credited with killing off the traditional watch. Look for them on Millennials and you'll find very few wearing one. Why bother when you can get the time–and sports scores, and weather, and texts, and stock quotes, and music, and movies, and books, and status updates–from your iPhone?
There's some evidence that consumers are interested in wearable computing. Products like the Fitbit and Nike's Fuelband have proven popular in the athletic niche. But those are single purpose products built to address very specific needs – like tracking calories burned, and sports activity. With Gear, Samsung is taking a broader approach. It can run apps (60 come preloaded). Indeed, Dick Tracy's futuristic watch is now available at a store near you.
Price is another concern. At $299, the Gear, which could very well be the most smartphone accessory on the market, is $100 more than what someone can pay to buy, for example, a Moto X, on contract.
The biggest question, though, I have about Samsung's uber watch is this:
What additive value does it provide above and beyond a smartphone?
If Gear merely replicates what I can already do with my Nexus 4 then why bother carrying (and paying for) yet another mobile device? It seems to me that this will ultimately be a niche market.
There are use cases where it does make sense – like if you're climbing a mountain, or jumping out of a plane, or driving in the Indy 500. A smartwatch on your wrist in all those scenarios works far better (I'm guessing) than a smartphone in your pocket.
Samsung is, smartly, marketing the device as a "companion" product. It will sync and work in tandem with a traditional smartphone with, as was demonstrated today at IFA 2013 trade show, something like the Galaxy Note 3.
So, welcome to the Wearable Computing Era.
It's a curiosity. For now, I'm not biting, but I'll be watching closely and Tweeting with my Nexus 4 from the sidelines. My gut reaction is that with the awkward, over-priced Galaxy Gear, Samsung is answering a question that no one asked.
Apple and Google: Your move.