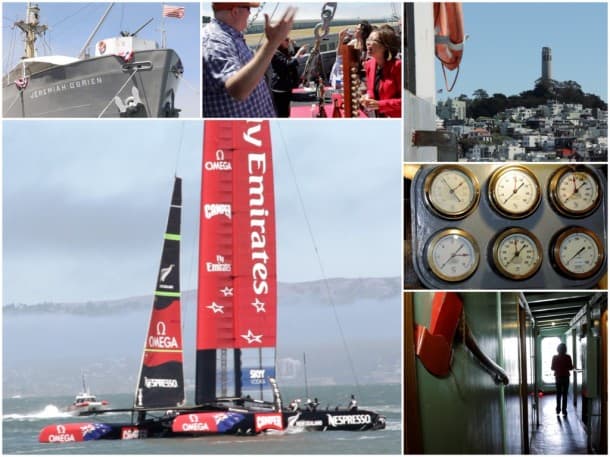 It took only 56 days for the New England Shipbuilding Company to build the S.S. Jeremiah O'Brien. But it took us far less time to taste through the 50+ wineries that were pouring during a special trade tasting by Napa Valley Vintners aboard the historic liberty ship. Which accomplishment will go down as the grander in the history books will surely be a point of debate for years to come.
Now sitting at Pier 45, alongside the extraordinary Pampanito submarine (or is that the first segment of Elon Musk's new Hyperloop?!), the majestic ship turned out to be a stellar viewing platform for the semi-finals of America's Cup.
"It's the last working liberty ship that we know of in its original condition," said docent Karen Sanderson. In 1994, the original crew, with an average of 72 years old, voyaged to France aboard the O'Brien for a V-Day reunion.
We've got all the action here in this very special, very risque and very oddly mashed-up Stark Insider TV segment.
Follow Loni as she experiences the "Taste of Victory" and talks with Conn Creek about the cycle of un-oaked/oaked Chardonnay cycle. And the secret product relationship associated with Cliff Family Winery (chances are, you've seen and bought one of their products, and I'm not referring to a bottle of Cab). Plus: can Loni escape the clutches of a friendly Italian stranger- it was all a bit surreal, not to mention the incredibly non-foggy weather that graced the Embarcadero on this atypical San Francisco day.
WATCH: America's Cup Meets Napa Valley (VIDEO)
I've been to a few wine tastings in my time; but this one might just take the cake. Not only were the wines, a handful of some of Napa's best, "showing" extremely well, but the scenery was to die for. Sail boats in action are a beautiful thing to witness. Put them against the background which included Alcatraz, the Bay Bridge, Golden Gate Bridge, plus stunning vistas of the City, and you have yourself a setting for a most memorable occasion.
Standouts on this day included Blackbird Vineyards Cab (luxurious, rich), Terra Valentine dry Riesling (elegant, restrained), and Schweiger Cab (gorgeous dark fruits, chewy tannins) and Conn Creek Cab (Napa classic), among several others. Also, if you get a chance, definitely look for the Cliff Chard.
MUST SEE: Dynamite in Napa Valley (Video)
As usual, as evidenced by this SI TV segment, we once again make a few wrong turns – it's pretty hard not to on such a large vessel (at least, that's my excuse).
More wine country action is on the way, including an interview with most of the most secretive and most wealthy and most flamboyant winemakers in Silicon Valley. It's an episode that features microchips, the Green Bay Packers, and extreme Pinot.
In the words of Caroline Palmisano of Cliff Family Winery used to describe her winery's mantra:
Always take the road less traveled.
Salut!