If you felt as if the City was about to take off like a rocket-ship last night, you can blame the Orpheum Theatre.
As they say, the lid practically blew off the joint, and Twitter, Facebook and Instagram lit up post-show with praise for Priscilla Queen of the Desert:
Just saw #PriscillaSHN the musical it was really funtastic incrediballs completely over the top epic costumes brilliant!!

— Antony McGregor Dey (@antonymd) August 23, 2013
SHN has brought the Tony-award winning production to San Francisco for a short run.
We were pleased as punch when organizers invited Stark Insider backstage for an exclusive look at the organized (chaotic) opening night proceedings. And that is what you see here in this on location video segment featuring wardrobe supervisor Gillian Austin. Somehow she maintains calm, ever so cheerful, as props are moved about, various things dropped or banged into various other things.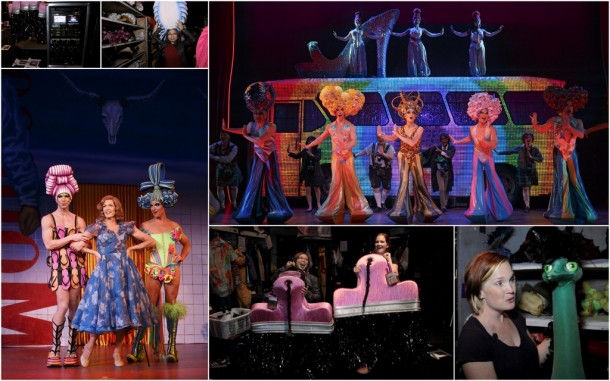 The touring Broadway musical feels perfectly at home here. No question. Though it's based on the film (1994), which is set in Australia, it might as well be a homage to everything liberal, everything special, everything over-the-top about the City by the Bay.
MORE BAY AREA STAGE: Review: 'No Man's Land' with Patrick Stewart and Ian McKellen
The vibe–and more likely the the costumes–could remind one of that institution called Beach Blanket Babylon. If you're one for extravagant hats, 3-pound glittering dresses, and Barbie shirts, then this is home, sweet dancing, home indeed.
Beyond amazing. Complete definition of fun. So much fun! So much glitter! See this show. #PriscillaSHN

— Ashley (@likely_ash) August 23, 2013
What's it like behind the scenes of a production that features two drag queens and a transsexual adventuring across the Australian desert? Your answer is right here in this all access, all mayhem episode of Stark Insider TV:
(Note: not for kids, unless you want to explain to them what it means to "untangle balls".)
WATCH: Opening Night at Priscilla Queen of the Desert