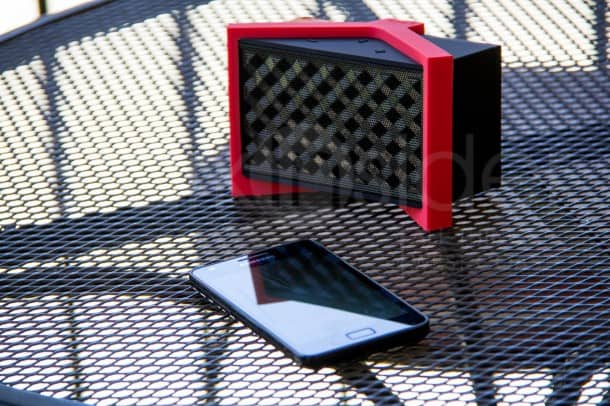 In a sea of bluetooth speakers it's hard to standout. That's not a problem for this spunky little guy. For starters, there's the name – TYLT TÜNZ. Borrowing inspiration from Hagen Daaz ice cream, and perhaps even Motley Crue, it could take a while (and a few shots of Jäger might help) to figure out the pronunciation until you realize the easy way to say it: "tilt tunes". Gotcha.
Not content to merely have a unique name, the portable speaker (measuring 4.75 x 2.25 x 2.75 inches) also features a removable silicon band. Fortunately the manufacturer, the Foreign Trade Company, doesn't require you to make agonizing decisions and includes bands in all three colors – red (as seen in the photos), blue and black.
Ellie Goulding's quirky-electro-artsy-futuristic "Anything Could Happen" sounded fantastic.
Beyond all that the Tunz packs a bevy of features, despite its low cost of entry: bluetooth (3.0), NFC, 3.5mm audio in and out, a USB connector for charging a device such as a smartphone, and a micro USB connector for charging. Along the top, decidely Jambox inspired buttons: volume up and down, bluetooth, and phone. The battery is rated at 2,800mAh. To top it all off, you get a nice carrying bag, 3.5mm auxillary cable (but who needs that, this is bluetooth enabled right?!), and a micro-USB cable.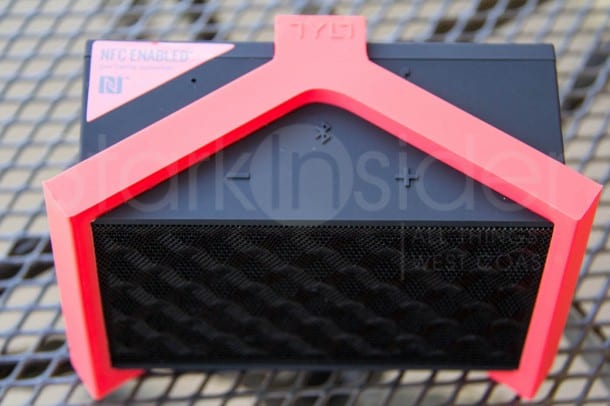 Pairing is a snap. Hold down the bluetooth button up top, and a pleasant enough female voice confirms that pairing mode is activated. From there it was a snap pairing the Tunz with a Samsung Galaxy S II for this test (yep, I'm old school that way).
Oh, being a speaker and all, what about audio quality?
In a word: respectable.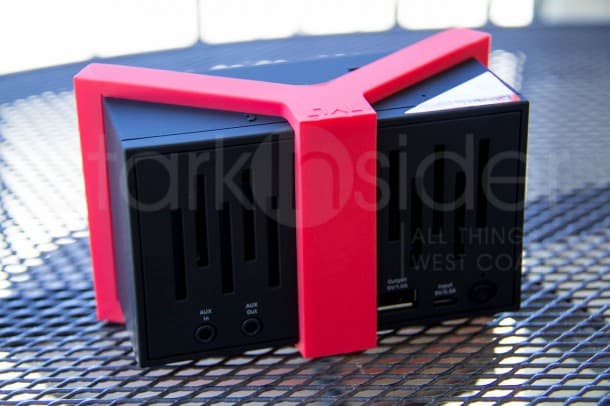 Don't expect to blow away your friend's flashy Bose speaker. But the sound is surprisingly clean. Bass too impressed, with a solid punch. Ellie Goulding's quirky-electro-artsy-futuristic "Anything Could Happen" sounded fantastic. So did our trusty testing track, "American Idiot" by Green Day. It was easily able to fill a small room with sound. Pushing the limit does reveal some mid-distortion, not atypical of other bluetooth speakers in this price range.
Though the silicon band might seem like a gimmick in our tests it gave the speaker a rugged demeanor – toss this thing into a bag, Tunz certainly invites you to bring it along for the ride. One nit: the band does intrud slightly on the phone button on top. I would've liked to have seen a little more space between the button and the groove where the band runs.
As a smartphone speaker, we were also pleased with the performance. Sound is rich and voices sound clear, with ample volume to get through the most intense of Monday morning meetings. Music pauses automatically when an incoming call is accepted (by tapping the phone button).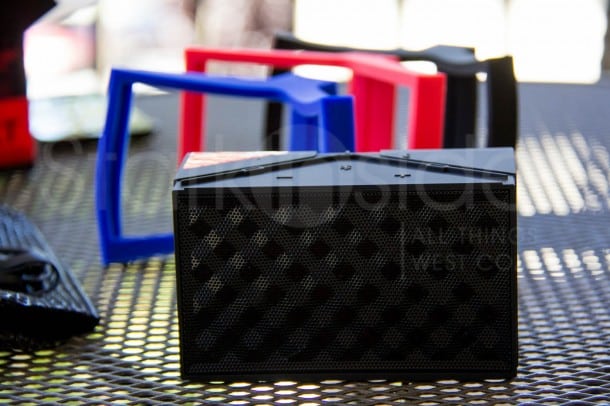 Battery life is another positive with the Tunz – we came very close to the manufacturer's claim of 20 hours. We suspect there's a lot of variability, depending on the volume level primarily so your results may vary. Just know you'll be able to easily be away from power outlets for quite some time.
The ever ubiquitous Jawbone Jambox is the obvious competitor. At $149, about 25% cheaper, the Tunz wins on price. But you can find the JB discounted online, and so it becomes a tougher decision. We do like that the Tunz lasts longer on a charge, runs a newer version of bluetooth (3.0 vs. 2.1) and sounds slightly better to our ears.