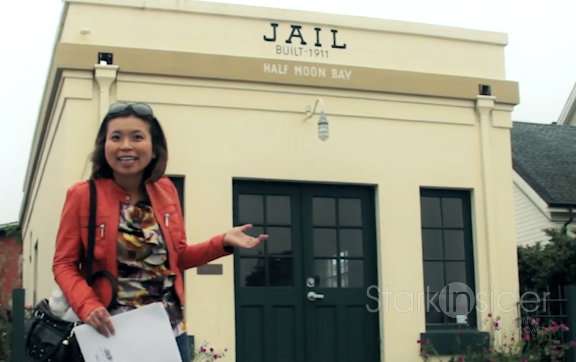 Loni stumbles upon a "cute" jail in this outtake from an upcoming Stark Insider TV segment involving Pinot, bottles of wine with embedded microchips, and wine caves (but of course).
"If I had to go to jail for something, this would be the kind of jail you want to go to," she says. "It looks adorable. Doesn't it look inviting?"
Well, you be the judge:
But what on earth is she doing in Half Moon Bay?
And is this really a jail?
And did Restoration Hardware pay for this incredible promo? (no)
Stay tuned to Stark Insider as we take you behind the scenes, explore interesting locations, and bring you the inside perspective on some of today's most fascinating personalities.
Spanish Historical Society Jail: The Real Story

The Spanish Town Jail was built in 1911 and served as a country jail during the early 20th century.

Now a museum, the jail is a great place to learn about the history of the coastside during that era.

Located a street away from Main street, the jail is an excellently preserved relic of the past and a very interesting place to visit.

[HMB Patch]
Recent episodes of Stark Insider TV you may have missed: