In this special episode of Stark Insider TV (see video below), Team Stark stops by Corison Winery & Vineyard in St. Helena to talk with winemaker Cathy Corison, one of the first women to make wine in Napa.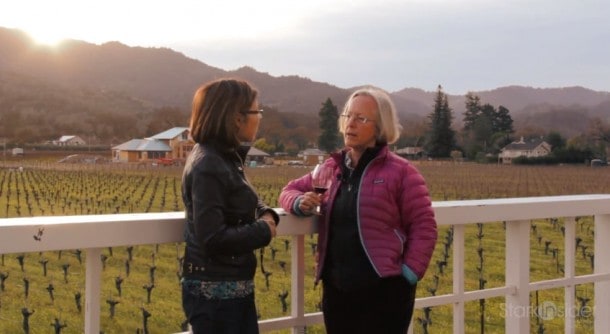 "This terroir deserves wines that can be aged."
Cathy Corison doesn't do trends. The esteemed winemaker–27 years in the business–also doesn't give two hoots about the superficial. Conversation over wine with Corison has a tendency to quickly turn into deep, deep (as in Jack from Sideways "deep") musings about terroir, the glory of the Rutherford Bench, and alluvial fans.
If there's someone at the height of her craft in Napa, you're likely to find her plying her trade in an unassuming barn in St. Helena just off Highway 29 (and a door down from Dean & Deluca where you'll find the most ridiculously-sinfully delicious chocolates this side of the European waistline).
"Every single day the fog rolls in from San Francisco."
WATCH: Explosive Napa Interviews, Target: Corison Winery
Truth be told, until this day I had not so much as tasted a drop of Corison's wine, which in itself is an embarrassing admission for someone who's as big a fan of Napa Reds as they come.
Fortunately, a tasting during the Premiere Napa Valley trade event and auction in February righted that. Cathy had agreed to do an interview with Stark Insider TV, and we jumped at the chance to get her perspective on winemaking, women in the wine business, the and the relevance of the 100-point scoring system.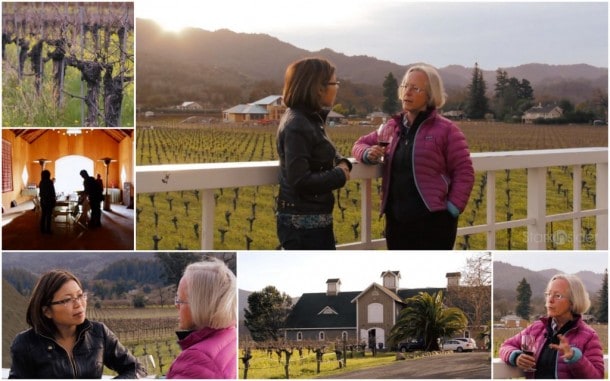 After a spirited panel discussion at Hourglass (more on that soon), I zipped down to St. Helena where Cathy Corison was hosting a '00-05 vertical tasting of her Kronos Cabs. Earlier as I sorted through the miles deep PNV invites and tastings, this one rose to the top, even amidst flashier affairs. A sit-down with an accomplished winemaker while tasting through some of Napa's best? I'm all in, every time possible.
If you go:

There's a balcony at the back of the Corison barn. Be sure to check it out. The views go on for miles. And you'll appreciate the expanse of the property and the rows upon rows of vineyards. I've seen a lot of amazing views in Napa (Artesa!) and this one is right up there in terms of heart-stopping beauty. On this day, we shot the interview with Cathy Corison at the  most ideal time, as the sun was going down over Hood Mountain. Grab a glass, savor the moment.
I'm especially appreciative these days of "estate" wines, those that are made with grapes farmed on the vineyard. Like To-Kalon at Mondavi, the Kronos Vineyard on the Corison property produces some of the valley's most glorious clusters. From a guy's perspective, enjoying a glass of Cabernet made from them is akin to wrestling nude with Megan Fox and Mila Kunis in a collection vat.
"It's the vineyards talking, not me."
While Calistoga at the northern end gets higher highs, in this part of the valley, the daily temperature averages are consistently higher. No doubt the Mediterranean-like climate, with cool evenings and foggy mornings, gives a winemaker a head start. Some of Corison's favorite vintages are the cooler ones.
ALSO: Baja wine hunter
Planted in 1971, the vines used for the Kronos cab are old, old Napa, "not old by European standards."
Tasting through the vertical, from 2000 to 2005, I was struck by the sophistication and complexity of these reds. It's sometimes easy to forget, in a sea of familiarity, how special a finely crafted Napa Cab can show. The '01 and '05s were my favorites, by just a hair. "Terroir" is tossed around a lot these days. Sitting on the second floor of this barn in an intimate tasting, comparing one vintage to the next — swirl, sniff, taste, spit, repeat — you begin to (a) appreciate what the French are talking about; (b) detect the finest nuances in taste (and appearance) between each of the Kronos releases; and (c) tell yourself, I'm one lucky SOB.
ON LOCATION: Cathy Corison Winery – Stark Insider's Most Explosive Wine Video Ever