"We're living in a pivotal moment in computing," said Google SVP Sundar Pichai in reference to the "multi-screen world." Thanks to emerging devices including smartphones and tablets, and the continued decline in PC shipments, the market has changed dramatically – and Google wants to ensure it continues to lead the way forward.
During brief opening remarks–reminiscent of Apple's over-1-billion-served style market momentum recap–Pichai talked tablet growth, and Google's continued strength in that market:
— Android and Chrome continue to be the two platforms that constitute Google's open source strategy.
— By the end of 2013 consumers are going to buy more tablets than PCs. "It's a pretty amazing trend."
— According to Google the company has seen over 70 million tablet activations. About one out of every two tablets is based on Android.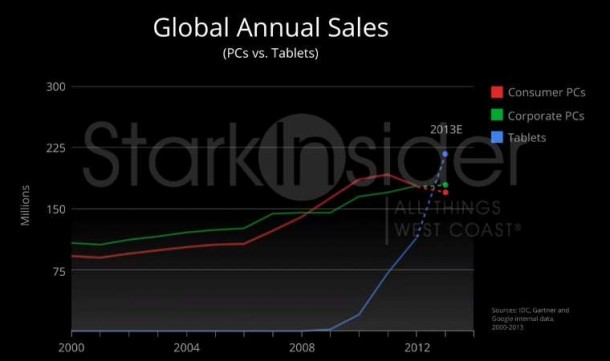 As was widely expected (and leaked, and leaked some more) the second generation Nexus 7 tablet was then revealed. And, yes, it's thinner, lighter and faster. "It's a much more comfortable grip," according to Google's Hugo Barra. And it's also the "world's highest resolution" tablet.
Spec-wise here's the run-down on the new Nexus 7:
1.5GHz Snapdragon S4 Pro (1.8x CPU/4x GPU over previous model)
2GB RAM
1920×1200 resolution
323dpi (the highest of any tablet in the market) display with a 30% wider range of color
Cameras:1.2MP front/5MP Rear
Bluetooth 4.0
4G LTE (optional)
Dual-band Wi Fi (802.11 a/b/g/n)
HDMI output
Wireless charging
9 hours of HD playback / 10 hours of web browsing
Dual stereo speakers and virtual surround technology by Fraunhofer
Android 4.3
Pricing: $229 16GB Wi-Fi, $269 32GB Wi-Fi, $349 32GB LTE
Overall, it's a decent, if unspectacular refresh. It's a well-made, especially well-priced, tablet. I don't see any reason why the sales momentum that the Nexus 7 saw with its inaugural release in 2012 won't continue.
"Almost one in two tablets sold worldwide is based on Android."
The Apple iPad Mini remains the most obvious competitor. At $329 it's more expensive, yet can't match the HD display found on the new Nexus. Battery life is comparable. Many buyers will likely make the decision based on either price or number of apps.
One curious design decision with the Nexus is the company's preference for a landscape experience. Whereas the iPad is clearly designed to be foremost held in portrait mode–like you would a magazine or book–Google puts a premium on multimedia. Nexus' wide orientation should make it perfect for movies and games. But for reading, the aspect ratio becomes somewhat less ideal when held upright.
Is the new Nexus good enough?
I think so. It checks off all the right boxes, most notably the display, which outclasses the one found on the iPad Mini – and keep in mind it looks like Apple won't refresh it until 2014 which gives Google a long window of opportunity.
Netflix will stream 1080p content (the new app is already on the Google Play Store) which is a big plus for those that enjoy watching movies on the go.
Scoring the Google Nexus 7 II Launch

Product: A- 

The Nexus 7 tablet remains a stellar bargain, and with the new HD screen it's hard to imagine why most buyers wouldn't choose it over the iPad Mini.

Software (Android 4.3): B-

Not much excitement here (that will likely come with Key Lime Pie in Q4) but solid features and updates.

Presentation: A

Thank-you, thank-you Google for not bombarding us with overwrought music, crappy fake acting, and canned videos (hello Samsung, BlackBerry?!).
Google Maps, Drive, Hangouts all look quite nice on the Nexus 7. I really like Google's design metaphor – lots of white space, clean fonts, flat surfaces.
Yes, this is a pivotal moment for the computer industry. The market has and is changing dramatically. The PC is long Dead. And Google, along with Apple, continues to lead the charge. Now, bring on the X-Phone!