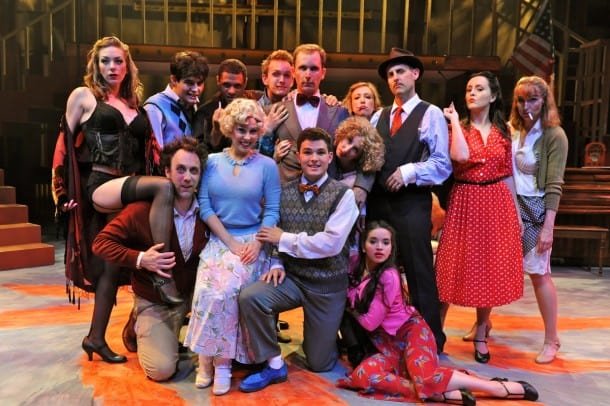 This time the comedy is intentional.
Unlike the now classic 1936 Government-backed film, this stage edition of Reefer Madness rolls out the laughs by design in an energetic cavalcade of satire, music and dance. Whether the hero opts for Mary Jane or Mary Lane ultimately is somewhat beside the point. We now know marijuana probably doesn't kill–quite the opposite in fact given its medicinal benefits (* when used according to Doctor's orders, and that, to clarify, typically does not involve a magic brownie recipe). In the early 20th century, however, it was pegged as enemy number one. It had to be stopped! The children! They are running over old people!
"Marijuana is an addictive drug which produces in its users insanity, criminality, and death."
San Jose Stage (or "The Stage" as its now known) never misses a chance to pull a fast one on us. One moment the intimate off-Broadway house is serving up Mamet linguistics, or exploring dark places such as with McDonagh's brooding Pillowman. But this?! Well, this, coming on the heels of Jane Austen's Persuasion no less, is a welcome respite for the brain, for the literary overloaded. And it's a most delicious exclamation mark to another wonderful season for the company that never says never.
"Marijuana is the most violence-causing drug in the history of mankind."
"You smoke a joint and you're likely to kill your brother."
Henry Anslinger, the head of the Federal Bureau of Narcotics, a new division in the Treasury Department took his anti-drug message to the kids. And the kids were increasingly spending time in movie houses. So if a message demonstrating how a toke could lead to wanton axe murdering, unbridled lust, and general social recklessness (not to mention the occasional Zombie walk) then… well, the big screen would be a pretty good place to start.
Decades later Reefer Madness has blossomed into the very definition of camp. If William Castle were operating back then, he would've hired Joan Crawford and Betty Davis and churned out another hag hit. Fortunately the film was smartly made into a musical, premiering in Los Angeles in 1998 to raves. It was camp-tastic.
"You smoke a joint and you're likely to kill your brother."
That over-the-top silliness reaches epic proportions in the Stage's highly entertaining staging (and regional premiere). There's tonnes of scantily clad (and well toned) bodies making as if they're in some kind of Hotel New Hampshire meets Studio 54 meets Dancing with the Stars television show. There's Jesus in Elvis shades–he doesn't dare miss witnessing an execution. And of course, there's the goatman sodomizing Jimmy, one of our lovestruck, wayward youth. Then there's the solo by a man-baby that would not be entirely out place on an Adam Sandler album.
And somehow it all works.
ALSO SEE: Going Zombie on the set of Reefer Madness (outtake)
I should note that somewhere in all this hoopla is a Romeo and Juliet inspired story of love with a bit of Grease thrown in for good measure. Nice boy gone bad, gone good again. Nice girl gone bad, gone good again. Mistaken identity. That sort of thing. What I found myself enjoying the most were the highly energetic and entertaining performances (these actors are brave, very brave), and also the innuendo and satire–it oozes.
Also adding to the production value is a tight 5-piece band. There's nothing like the live element to really add punch to a musical.
Again, the Stage does wonders in tight quarters. Before the show executive director Cathleen King told me there were fourteen actors in the production. That a regional theater can successfully pull off a show like this with endless costume changes (Jean Cardinale), hysterical though surely politically incorrect fight sequences (Stephen Massott), two acts of musical numbers (there's 20 of them by my count!) while consistently delivering laughs is truly impressive stuff.
Theatrical mission accomplished: camp can make for terrific entertainment. Government cautionary tale: not so much. We wouldn't want it any other way. And ain't that the truth.
Reefer Madness. Based on 1936 cult film classic. Every seat is a good one here. #lettheshowbegin instagram.com/p/aUppWNAx9a/

— Clinton Stark (@clintonstark) June 9, 2013
STARKIN

Don't miss the back-story… be sure to check out "About the Play" in the program for historical context which includes an explosive mix of prohibition, racism, and politics.

As if right on cue, the latest issue of Rolling Stone is all about the "Stoned Age."

How we know the actors aren't partaking in the real deal: By the third or fourth musical–and often acrobatic–number ("Down at the Ol' Five and Dime") you'll have all the evidence you need.