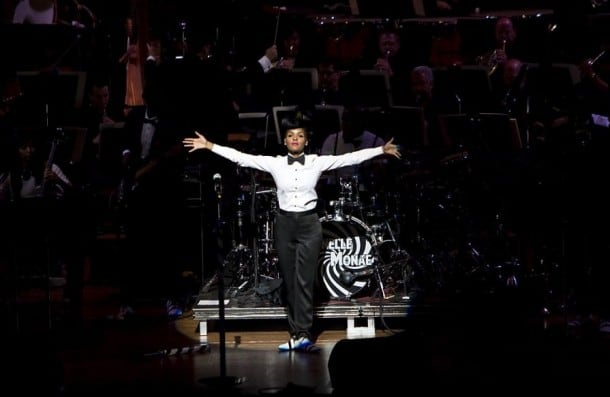 Remember this name: Janelle Monáe.
Though millions already know about the Kansas-born performer extraordinaire, I soon expect millions upon millions the world over to also discover the sensation. She simply has to be seen live in concert to be believed. Janelle last took the stage here last summer at the San Francisco Black & White Ball. There she played to a few hundred frenetic fans in a small (and warm) white tent. It was one of those pinch-me-this-is-too-epic kind of performances – the kind that tends to go down as a major milestone in an artist's rise to the top.
Last week, she of the trademark pompadour and glowing smile was in town again, this time for the glitzy Spring gala hosted by the San Francisco Symphony. It may seem an unlikely pairing, but those that know Monáe's unique mix of jazz, R&B, pop, and soul–delivered in energetic style on her debut album The ArchAndroid–will know that Davies Symphony Hall is an equally unexpected and appropriate venue for her to showcase her chops. And, indeed, what an evening it was.
It took all of about three songs before some of the audience (an electic mix of her fans and SF Symphony subscribers) was on their feet. By the time her groovalicious smash hit "Tightrope" filled Davies Symphony Hall, the place was set to explode. And, once again, there was a pompadour malfunction. There I was thinking that when it came apart a few years earlier in San Francisco I was witnessing something rare. Then again, with all that hopping, spinning, and (even!) moonwalking, it was inevitable the half-foot stack of hair would collapse.
By the encore the aisles were crammed with people getting down in all manner of dancing styles. Janelle herself joined in, even posing for an Instagram or two.
What I especially appreciate about Janelle Monáe is her talent is delivered straight up. So far as I can tell, there are no backing tracks; there are no fancy projection screens, no explosions, no MTV-style choreographed numbers. Granted the stage was a busy place on this evening. Along with the magnificently lush San Francisco Orchestra (who blew me away with a heart-pounding rendition of the James Bond theme during a wardrobe change), Janelle was, of course, joined by her superb band, backup singers, and frenetic dancers. Dull would be the last word that comes to mind.
ALSO SEE: Janelle Monáe astounds San Francisco audience
Michael Jackson, OutKast, and Grace Jones are obvious influences. As is Prince. Her rendition of "Take Me With You" was once again a highlight. Coupled with signature dance moves, she positively belts it out, "I don't care where we go / I don't care what we do / I don't care pretty baby / Just take me with you." The crowd was right there along with her, perhaps tentative at times half-wondering if protocol allowed for in-seat dancing. No matter that, by the encore the aisles were crammed with people celebrating in all manner of dancing styles. Janelle herself joined in, even posing for an Instagram or two.
In trying to describe Monáe, UK journalist Bernadette McNulty suggested she was "created in a laboratory as a super-musical cross between James Brown, Judy Garland, Andre 3000 and Steve Jobs, invented to test the desperate incredulity of music journalists." She might be onto something. That Monáe is not so easily pigeon-holed, and such an interesting mash-up of styles speaks to her most important attribute: originality.
However, having said that, there is one chink in the armor. And that is her lack of original content. I'd prefer if she were able to open shows with at least two or three originals before segueing into covers. Then again there's a reason for this. With only one album to work with, Janelle hasn't built up enough repertoire. At 27 there's much to look forward to though. Fortunately, I understand her sophomore effort, The Electric Lady (how appropriate is that title?), will land this fall.
I have to hand it to the SF Symphony for continuing to be so inventive in fusing such diverse artists into their seasons. Over the years there's been remarkable work here. Who could forget the live scoring of the screening of Psycho here, or the fantastical performance of the Final Fantasy synchronized to the video game series on the big screen?
That I had goose bumps yet again after a Janelle Monáe performance probably tells me everything I need to know.