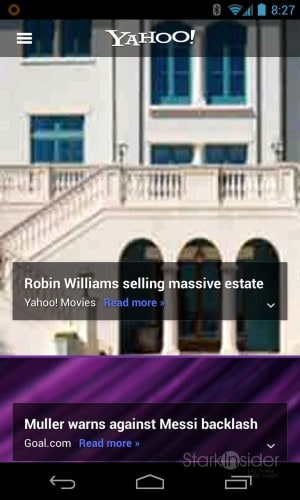 In an Android world chock full of Flipboard, News360, Pulse,  Taptu and so many other fine news readers is there really room or reason for another?
Yahoo thinks so.
The purple monster has unveiled Yahoo!, a basic news app for Android. I gave it a spin on my Nexus 4 and found it to be serviceable, but for far from revolutionary. Net-net: it'll have a tough time finding a regular rotation on my home screen. Read on to find out more, or cut to the chase and jump to Google Play and download it onto your Android to see for yourself.
I do like the visual presentation. Yahoo has smartly opted to go with large photos when possible. Most occupy almost the entire screen of my Nexus 4. Some articles (such as an NCIS preview piece) run without photos, and instead include Yahoo created summaries. As expected, tapping on any of them takes you to the full article. Response times are uniformly fast. Good work on that front.
You can browse all sections, or open the menu on the left to choose from a variety of sub-topics including business, celebrities (do they still exist?), media, news, politics, sports, and technology, among others.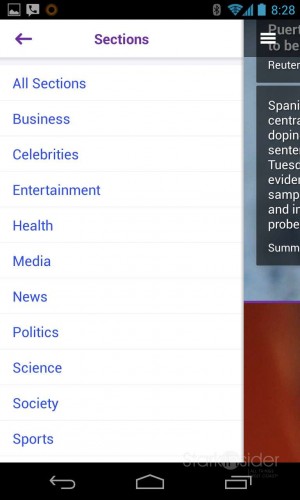 Yahoo includes links to some of its other (non-axed) apps. However even if you have any of them installed–Yahoo Finance for example–the app insists on displaying the links, for better or worse. If you're a fan of Yahoo apps and its ecosystem than this could be a convenient navigation feature. For me, it's just a minor nuisance (I don't use Yahoo Messenger, Mail or Sportacular).
Most of the content is, of course, sourced from Yahoo. It did see some stories from others including Marketwatch, Rivals, ABC, Good Morning America. Still, expect a healthy dose of Yahoo. Depending on the topic, that's not a bad thing. I've found Yahoo's NHL coverage (Puck Daddy) to be among some of the best, most opinionated out there; to see it here in the app is convenient. So far as I can tell there's no way to choose content providers, and there's also no option to add RSS feeds or web sites. What Yahoo bakes in is what you get.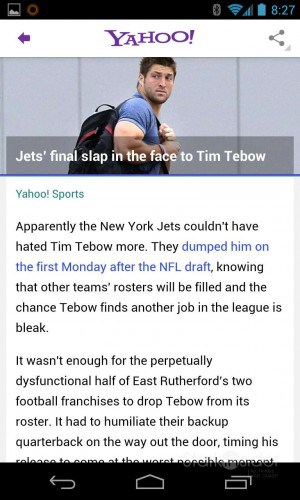 The first news source I visit everyday is still Google News. I do wish they'd make a native Android app for it, and not just insist we access it via the Chrome browser – after testing the new Yahoo app it's clear that native apps are still better in most respects, even if that gap is decreasing with the advent of HTML5/css3, etc.
Overall, the new Yahoo app is a solid if unspectacular news reader. In 2010 this might be top drawer stuff. Today, however, it's a step or two behind the competition.
Yahoo for Android
News reader
3 out of 5 stars