Some good news for app-starved Windows 8 users. Next Issue, the all you can eat magazine service, is now available for Microsoft's new platform. Subscribers to the service, which operates like Netflix with monthly plans starting at $9.99 per month, can access over 80 titles including TIME, Fortune, Vogue, People, ESPN The Magazine, Wired, Cosmopolitan, Fast Company, Sports Illustrated, Entertainment Weekly and Car & Driver, among others.
One Next Issue feature you won't find on its Android and iOS counterparts is the ability to pin favorite titles to the Start screen for easy access.
According to the developer, "users will receive notifications when new issues are available and can take advantage of multi-tasking with snap view."
Live tiles with rotating covers of the latest issues will be coming soon we're told – we like that idea a lot.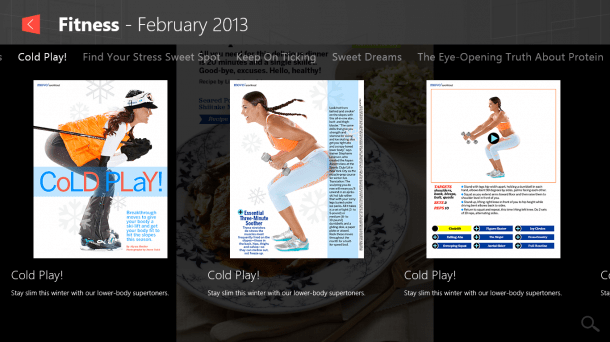 When we reviewed Next Issue last year, we came away impressed and gave it a recommendation. Despite some early software glitches, the service has come a long way, and is the only game in town. Competitors such as Zinio, Amazon, Google Play and iTunes also offer magazines, but only on a per issue basis, or on an annual subscription for a single title. Next Issue is the only app that gives you access to a library of titles all for a monthly fee.
Here's Next Issue for Windows 8 in action:
Next Issue is now available on the Windows store and will run on your Windows 8 PC, tablet, or smartphone. So, go get your digital glossy on!