Aside from the bungled ordering system (as repeated today for Google I/O registrants), one of the many perplexing aspects surrounding Google's Nexus 4 launch last year was the absence of accessories. Yes, there was the (decent) bumper case. It's well made, priced at $20, and does protect the phone without completely marring its looks. And, months later, a new wireless charger has landed. At $60 it's pricey, and though a slick bit of kit maybe not entirely necessary.
But where's things like the car  dock and charger?
Media and desktop docks?
I can't find official versions of them anywhere. Meanwhile, on the Samsung site (or respective carrier site) there's no shortage of accessories for the Galaxy S III.
I'm especially disappointed that there's no car dock. Trusty Nexus 4 is always on when I'm driving. Songza or Pandora are usually doing their business for music. Google Nav or Waze are almost always guiding to my destination in and around San Francisco.
ALSO: X Marks the Spot for Google
Maybe it's petty. Is it really that far-fetched, though, to want the conveniences that these add-ons provide to owning a flagship Android such as the Nexus 4? I actually thing consumers care about these things. The hunt for fun upgrades – be it a case, dock, screen protector, or bluetooth speaker – are all part of the personalization element of smartphone ownership that has come to define the mobile generation.
Come May, at Google I/O, I have my fingers crossed that we will see a non-LG Nexus phone. An "X Phone" as I've written about before. Running Key Lime Pie. With a 5-inch+ HD display. Virtually invisible bezel. A beefy battery. And accessories at launch. Wouldn't that be grand?
Meanwhile, I've found a car dock for my Nexus 4 that works. Mostly: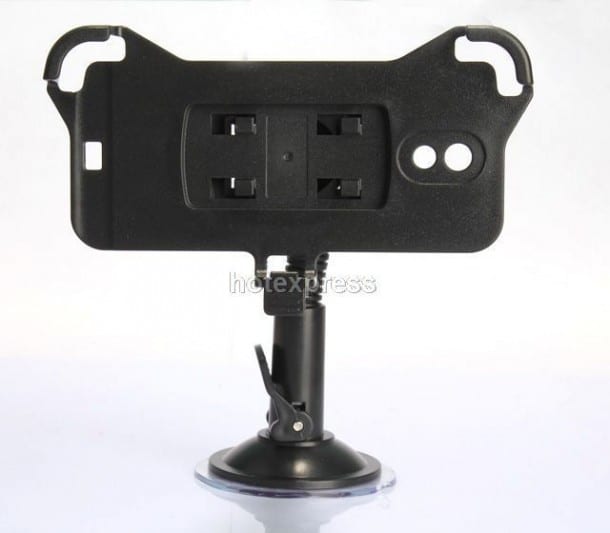 I bought this third party dock for my car last year when I was still packing a GNex (I prefer it to the official, bulkier one). And, lo-and-behold, the same dock also works on the LG. The fit is not perfect. The Nexus 4 is every so slightly wider which means the tab on the dock that holds the phone in place doesn't click into place as well as it would with the phone it's designed for. Nevertheless, it works! Best of all, these docks are only $5.95 shipped to your door. Yep, China again. (update: here's the eBay link for the dock in photo above – the price just went up by $1).