Google has taken a page from the Amazon playbook and made available a beta version of its popular Chrome browser for Android that takes advantage of server side page loads.
Though this is an experimental feature, it's worth checking out. Not only will web pages load faster, but due to a compression feature, the browser will consume less bandwidth. For those on capped data plans, this is most welcome news.
According to this post on the Chromium Blog announcing the new beta features (which also include saved passwords and autofill), "for an average web page, over 60% of the transferred bytes are images. The proxy optimizes and transcodes all images to the WebP format, which requires fewer bytes than other popular formats, such as JPEG and PNG."
So how do you take advantage of data compression and all this new browsing speed.
First, make sure you have an Android phone. Well, okay, that goes without saying, right?
Three Easy Steps to Browse Faster on Android
1. Download the Chrome Beta 26 for Android using this Google Play link (you won't find it using search) – Note: Chrome requires Android 4.1 or higher.
Next, you'll need to activate the proxy feature. By default it comes turned off.
2. In Chrome Beta go to "chrome://flags"
3. Select "Enable Data Compression Proxy"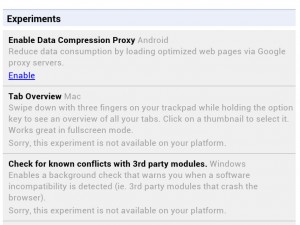 And you're all set!
Give it a go. In our tests, page loads were noticeably zippier (though not necessarily every web site we tried).
We've yet to encounter any bugs, though Google warns this is still in beta (they love extended beta tests don't they?). For the performance improvement, plus the other new features, we're more than willing to stick with Chrome Beta as our go-to browser – if there's ever a hiccup we can always pull up the stable version of Chrome since both versions can be installed simultaneously.