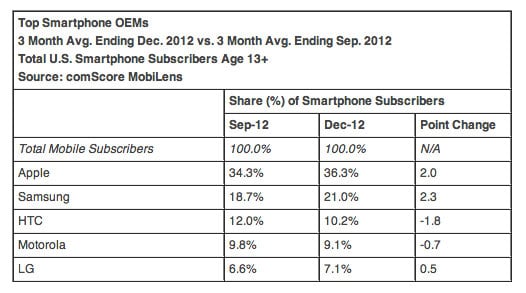 With just over 36% share Apple closed out 2012 as the top smartphone OEM. According to Comscore who issued the quarterly market share report, Samsung came in next at 21%.
Rounding out the top five were HTC (10.2%), Motorola (9.1%), and LG (7.1%).
That Apple still leads is not much of a surprise. No other company has been able to top the iPhone as the top selling smartphone domestically (U.S.) since its release.
Still, Android dominates the market as a platform. Some analysts report that 7 out of every 10 devices run Android.
Interestingly LG, who makes the much-hyped and well-received Nexus 4 smartphone (sold unlocked directly on the Google Play Store and on contract via T-Mobile) saw a modest jump of only 0.5% quarter-over-quarter despite all the marketing effort from Google.