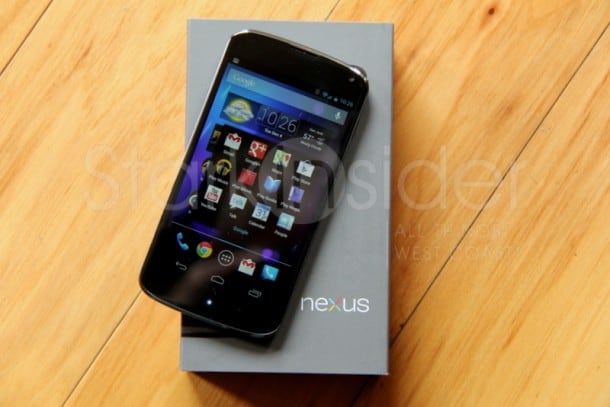 Nexus 4, it's been nice knowing you.
With the Samsung Galaxy S IV just around the corner (announcement coming March), and the Google X Phone surely coming shortly thereafter (Google I/O in May is a pretty safe bet), there's a few good reasons to say so long to the N4.
If you've been reading along with my Android coverage here on Stark Insider you probably know that I'm not blown away by what LG has done with the Nexus design. It feels solid enough, and I do like the softkeys, but there's nothing remarkable about it. There's no sizzle.
I'd like to see a thinner profile for the next Nexus. Also, that glass back has to go. It makes the phone unnecessarily slippery. Place it on a countertop or smooth desk surface, and you're a short slide away from disaster. Fortunately, i get around the issue with a cheap, TPU case (Cimo S-Line).
And, that camera? Google needs to get serious about that. Whoever next builds the Nexus (and I hope it's Motorola) needs to deliver something that can compete with the likes of the iPhone 5.
When the Samsung Galaxy Nexus came out in 2011, I was really impressed. The cool blue look of Ice Cream Sandwich combined with the svelte hardware (plus, removable battery!) made for a refined Android device.
Just the name itself, 'Nexus,' is likely a turnoff for many potential buyers – it sounds techy, futuristic, complicated even.
So, as the guys at The Verge would say (and are they killing it or what?!), what's my Next?
Samsung

Galaxy S IV
That this will be a hot seller is probably not in question. Samsung has gamely changed the rules. 'Galaxy' has become a more readily recognized brand than 'Android.' Sense, that custom software layer that makes the phone more approachable to everyday consumers, appears to resonate.
What we think we know spec wise: Exynos processor (8 core), a dedicated  GPU (also 8 core), 5-inch Super Amoled display, 2 GB RAM, 13MP rear camera (1080p), Android Jelly Bean (4.2.2).
For me, the S IV is sounding pretty sweet. I've decided that I want at least a 5-inch display on my next Android. I do so much on my smartphone these days, that I would prefer the extra real estate.
Motorola X Phone
Google needs a bonafide consumer hit. And it needs to sell it directly to consumers. Yes, there's the 'Nexus' brand and its range of products (Nexus 4 smartphone and Nexus 7,10 tablets), but sales, at least on the smartphone side, have been underwhelming. By a long shot. Nexus resonates with guys like me that prefer the pure Android experience. Just the name itself, 'Nexus,' is likely a turnoff for many potential buyers – it sounds techy, futuristic, complicated even. Again, I'm all for that; mainstream America, not so much.
With 'X' as I've written before (X Marks the Spot for Google), Google has an opportunity to change some of the negative perceptions surrounding Android such as it being hard to use (which, of course, it isn't), and it appealing to the lower end of the market (also, not true).
Maybe Google will turn to Motorola Mobility, and have them instead build the next Nexus, and not do anything else with the 'X' concept save for using it for internal futuristic projects. That would be fine with me, but I fear the 'Nexus' name carries too much drag for smartphone buyers (On the tablet side things are brighter) – many will recall the horrendous experience of trying to order one last year. Please, Google, go with an Apple approach: products should not stock out, instead they should have updated shipping estimates, even if weeks/months. Take the money. At least give the buyer the satisfaction of finishing a transaction.
Life after Nexus 4
Battery life, though I thought it was decent at first, is disappointing on the N4. I hope whatever comes next has better endurance, and battery optimizations.
Other phones that could make for viable replacements include HTC One and Sony Xperia Z. The One is solid, and I like the design and dual-speaker setup. Definitely a contender. Unfortunately, with the Z Sony goes with a similar LG-like glass sandwich design. It looks pretty, yes. Plastics, though, are less slippery, and less likely to crack when dropped.
The fly in the ointment may well be that only the Nexus phone comes unlocked (at least a reasonable price). If Google holds the line on its next Nexus and/or the X phone, it's hard to pass up a new, unlocked, contract-free flagship Android for only $300 (or $350).