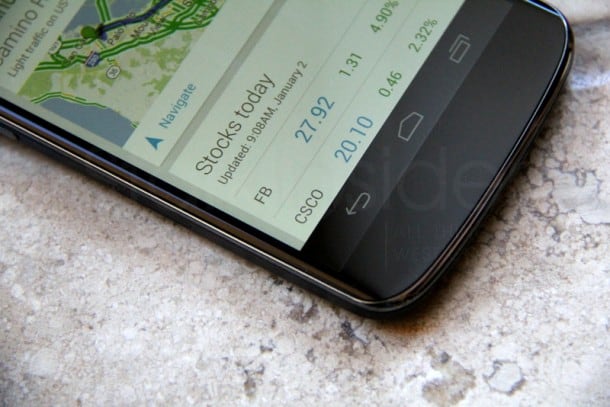 Over the past week there's been a lot of interesting ech prognostication.
Google Glass gets lots of headlines, and, yes, it will be interesting to see how that plays out – developers are likely to get their hands on concept versions (for $1400) this year with consumers able to buy them in 2014. Will we want to go Jettson, and use our heads to control a wearable device that makes us look part cyborg, part geek-hipster? We'll know soon enough. Count me in!
Flexible displays get attention about this time of year. Pre-CES we hear that this will be the year that we'll see bendable phones. Last year I made exactly that prediction, and I think the year before. Oops. Still, the technology is here. It's just not quite ready for mass production at a reasonable cost. Plus, is a bendable phone (or tablet) something you'd find useful?
Google Now (and Siri) are very interesting to me in terms of what's to come in mobile tech. Prediction, context and location intersect beautifully with Google Now – it can predict what kind of information you'll need based on what you're doing and where you are. There's all sorts of helpful things baked into the feature now found in Android 4.2 (Jelly Bean): travel schedules, stocks, weather, sports scores, nearby events, restaurants of interest, local movies, and on and on. It's far from perfect. Google Now loves to constantly remind me how long it will take me to get home, and I'm surely reminded the 49ers beat the Cardinals about three our four times every day (but I don't mind that!). If you notice that the look and feel on certain screens of Google's web-based Search are starting to look like, well,, Google Now cards, that's not by accident – integration is underway (for example, check out this CSCO stock quote, and you'll notice it looks near identical to the one you'd find on Google Now on an Android phone running Jelly Bean). Google Now has the potential to be a disruptive technology. I hate to reference the oft-used cliche, but it could be a game-changer.
But the most interesting trend could very well be the shrinking bezel.
That black surround around our smartphones, laptops and tablets (and monitors, televisions too) is not long for this world.
Bezels keep getting thinner and thinner.
While it's not the most sexy development in tech these days, it could pave the way for a future featuring devices that look and feel just like their non-digital counterparts. Take, for example, magazines on the iPad. They are almost identical to their print counterparts save for one major difference: the bezel. The iPad has a black border that runs about 3/4 of an inch around all four sides. What if the bezel were completely gone? Poof. Reading Car & Driver on the iPad would be near identical to the print edition.
I'm ever hopeful that developers use the new found freedom that bezel-less design affords by using the space to offer more practical navigation controls
Televisions have witnessed shrinking bezels for quite some time now. High end Samsung models have virtually no bezel whatsoever.
Smartphones are probably the most interesting device to watch; a disappearing bezel means more room for larger displays. Where space is at a premium, finding a way to cram extra information becomes critical. Killing the bezel would help tremendously.
If the bezel is gone, though, won't that mean we won't have a place to hold our phones and tablets? Worse still, our fingers and thumbs will obfuscate the user interface!
Yes, but keep in mind two things: (1) the lack of a bezel has never posed an issue for reading a magazine, book or newspaper; and (2) software and design can easily take care of that problem by simulating margins. I'm ever hopeful too that developers use the new found freedom that bezel-less design affords by using the space to offer more practical navigation controls (how much better would it be if the back button on Android devices such as the Nexus 4 was actually on the side near your thumb rather than all the way down at the bottom right, a location that requires acrobatics to reach?).
Take a look at HTC's Droid DNA smartphone. Even though the mega Android has a 5-inch display, it's dimensions are surprisingly contact. That's largely because of its shrinking bezel. Ditto Sony's upcoming line of Xperia Androids (which we should see at CES in Vegas) – again, 5-inch displays in amazingly compact bodies.
Year of the incredible shrinking bezel?
I hope so. Just imagine how cool the iPad 6 or 7 is going to look sans bezel. Or the Nexus 5 or 6.