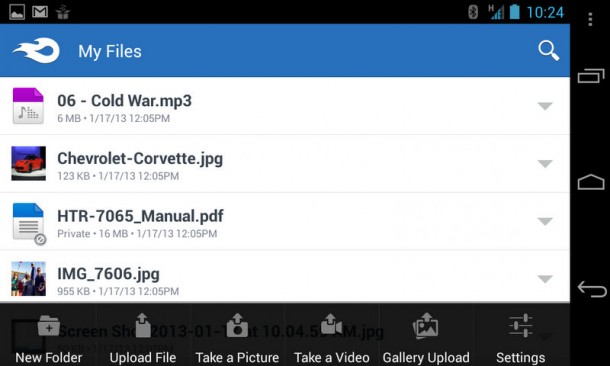 Yet another cloud storage app jumps into the fray.
One difference with MediaFire, who just launched an app for Android on Google Play, is that it gives away 50GB of free storage for starters. That's significantly more than competitors such as Dropbox (2GB), Skydrive (7GB) and Box (5GB).
In testing the MediaFire app on my Nexus 4 it performed as expected, allowing me to view documents, spreadsheets, presentations, video, and audio files that had been uploaded. Again like the other services, I was able to also view them using the MediaFire web site.
You can download the app here, and grab 50GB of free storage, but be sure to sign up first on their web site, as I could not find a way to create an account using the app.
Uploads are fast. Drag and drop batch uploading is possible via the web interface. I uploaded a bunch of random files of various types (jpg, doc, pdf, mp3). All of them were viewable without a problem, though I kept getting a "Temporarily Unavailable" error when trying to read the pdf for a Yamaha receiver user manual. Basic file management is available using the gear icon that appears when you float over a file – files can be moved, copied, shared with others (Twitter, Facebook, email) and marked private.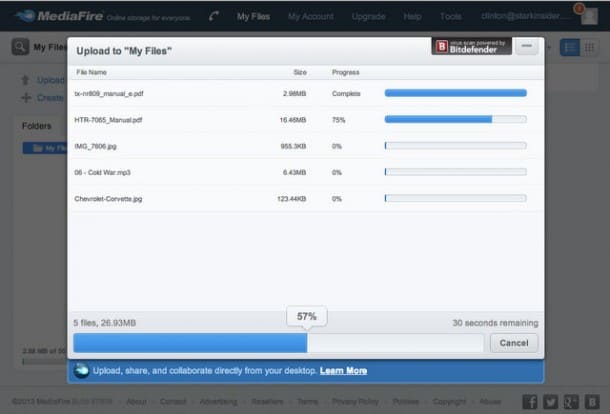 I was also able to view all these files using the Android app, though some such as mp3s require an external viewer (not an issue). File management on the app is available with the touch of a drop down and includes: share, copy link, make private, rename, move, delete and download.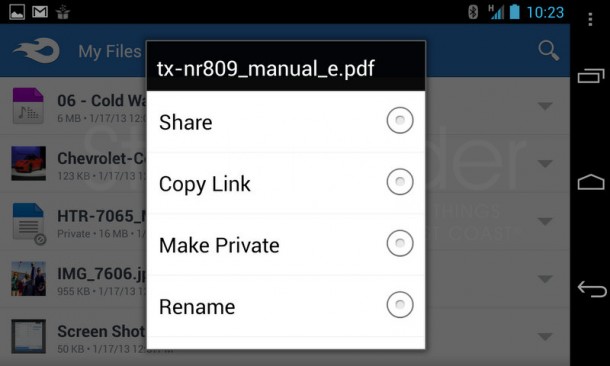 Uploading a file from the MediaFire app can be somewhat tricky. The interface plunks you smack dab at the root of the Android document tree. That might be problematic for those casual users looking, say, for their photos or specific documents. Fortunately, a 'Gallery Upload' option makes that process much simpler, at least for photos and videos.
I had trouble viewing pdfs on the Android app. Neither the would open using 'web view' or 'local application' (which, oddly suggests Google Chrome or Google Reader). These same files would open perfectly fine via external apps (Kindle, ThinkOffice, etc.) using Box and Dropbox.
There are some caveats with MediaFire. The free account limits file sizes to 200MB, which will be an issue for those working with video. Files are not backed up, and if you want to simultaneously download files, you'll have to deal with some ads. Three plans (personal, pro, business) add more features, and storage up to a beefy 1000GB (1TB).
Overall MediaFire is definitely worth considering for your cloud storage needs, even if just for that 50GB carrot. Lack of file and folder syncing and collaboration features will make it a non-starter for many. And the lack of auto uploads means it won't be replacing Dropbox for me anytime soon. Still, if you're not already deeply committed to Box, Drive, Skydrive or Dropbox there's enough here to warrant a look. Plus — did I already mention?! — that's 50GB of yours for the taking.