Scope Beta is not the first app to integrate several social networking sites into one stream, and it likely won't be the last. But what sets this one apart is its beautiful UI, attention to detail, and smooth operation. I recently tested the app — which is still in a Google-like "beta" state — and would recommend it to anyone looking to help get their social networking lives under control.
Currently, Scope is only available for Android. I tested it on a Nexus 4, and found a lot to like, even if the product is not quite fully formed yet.
For starters, there's a gorgeous user interface, reminiscent of Google+. That's a good thing. White space is used in healthy doses, which give text a clean look. Circles are also a prominent element of the design. To create a new status you click a small, circular "+" sign at the bottom left; a semi-circle of icons pops up (message, location, photo, gallery). Another icon in the lower right pulls up a tidy notification bar. Click on a gear icon at the top right and you can filter your stream based on social network of choice.
Scope supports five networks at this point: Facebook (blue), Twitter (red), Instagram (orange), Foursquare and Tumblr. Google+, as the developer notes on the Play Store, is not supported as Google does not make its API available. In testing all worked without a hitch, and refresh rates were respectable.
I like the way photos are shown full-size within a stream. Having to click on a photo link to get a larger view is a 21st-century drag, and thankfully Scope beautifies streams (again, similar to Google+)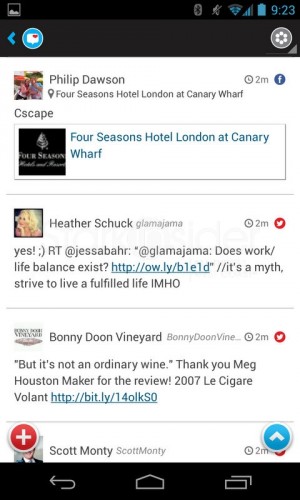 Aspiring to almost be a Flipboard of sorts, the developers have included content-based streams. This allows you to follow various topics. So in addition to your normal social streams you can, for example, pull up a stream of Slickdeals. Or a Reddit feed. It's almost like an RSS feed with a Twitter makeover. Other streams featured in Scope include Bureau of Trade (?), Levi's (also ?), and a series of Reddit feeds (Aww, funny, gaming, etc.). I really like this feature, and see huge potential.
Power users might likely won't make the switch from native apps. For example, the Twitter functionality in the Scope Beta is limited. There are no lists. And I couldn't even find basic search (please add this!) though it's entirely possible I'm just looking in the right place. The basic functionality is there. And I suspect the goal of this app is not be a hardcore replacement for any of the native apps — Facebook, Twitter, Instagram, Foursquare, Tumblr — but rather to, as they say, "unify" your social life. In that respect I give this app high marks. Still, I won't be dumping UberSocial anytime soon as my go-to Android Twitter app.
I've tried a lot of Twitter apps, and social integration apps and would score the Scope Beta right near the top. If the devs give the Twitter functionality some oomph I could even see myself eventually switching to it full-time. Meantime it's a well thought out, cleverly designed social networking app that you should definitely try.
IN PHOTOS: Scope Beta for Android