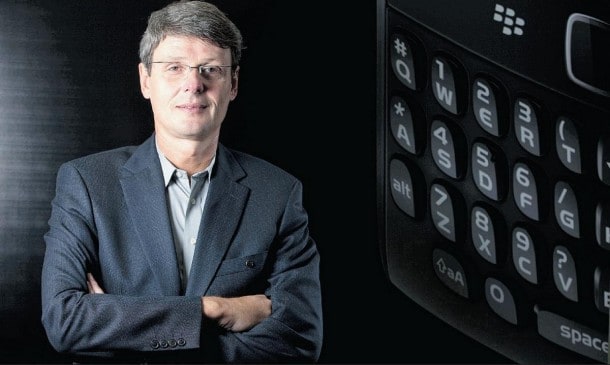 The Day of Reckoning for RIM is almost here. BlackBerry 10 launches tomorrow, and the world is about to find out if the once dominant Canadian company has the chutzpa for a second act worth watching. With Google Android and Apple iOS forming a seemingly unbreakable duopoly in the mobile market (over 90% share combined) there's not many scraps left for the likes of Microsoft, RIM, and others to fight over.
It wasn't always like this.
Just four years ago at the beginning of 2009 BlackBerry's market share was at an all time high. RIM was moving 4.5 million units per quarter.
But the world was quickly becoming app-driven, thanks to Apple which at that point was shipping its 3rd generation iPhone (3G/3GS). Physical keyboards were increasingly supplanted by the wonders of touch. Unable to match the excitement, and lacking in apps and developer support, BlackBerry market share began to fall.
Though Android handsets were available earlier, the Droid was Android's major league coming out "Droid Does" party in November 2009 (coincidently, at launch I replaced my excellent BlackBerry 8700 with a Motorola Droid at a local Verizon store). Integrating the best of Google (search, browsing, Gmail, calendar, etc.) it proved to be the iPhone's equal in terms of excitement. But it had a trump card: openness. This meant more choice, more carriers – and a complete range of carrier subsidized models from high-priced flagships such as the Motorola Droid to entry models such as the  LG Optimus One. By comparison, BlackBerrys looked chunky, their design old school. The Storm, RIM's first attempt at a touch-based handset (without physical keyboard), flopped.
Is there any hope left for RIM and the BlackBerry brand?
I think so. It's unrealistic to expect the BlackBerry to magically outpace the iPhone or hot Android sellers like the LG Nexus 4 or Samsung Galaxy S III anytime soon. However, by returning to its roots, and focusing on niche markets, I suspect RIM (Lenovo?) could carve out a profitable future, albeit one with much smaller revenues.
5 or Die – Here's 5 Things RIM Needs to do with BlackBerry 10
1. Get Developers on board
It all starts with the developers. In fact, it's so critical to have a mass of developers on board, that this list could really just end here. Just ask Microsoft. Windows 8 is lacking all sorts of key apps, and it's essentially killing them. If you can't run your favorite apps – Facebook, Twitter the Microsoft example — then why would a consumer even entertain switching from Android or the iPhone?
2. Play up BB's strengths
BlackBerry Messenger (BBM) was a huge hit for RIM. The ability to instantly message other BB users without carrier costs was very attractive for not only corporate users, but also for teens (sexting probably began with racy emoticons…). There's Google Voice and Apple Facetime, but there's not a dominant leader when it comes to nextgen messaging. There's opportunity here.
3. Tell us why we should buy a BlackBerry
If RIM comes out and does a head-to-head comparison with the competition and achieves par then they've failed. We must know why we should buy a BlackBerry over an iPhone or Galaxy S III or Nexus 4. What killer feature(s) (security? messaging? multitasking?) is lust-worthy, and will induce the masses to cry out, "It's BlackBerry or nothing!!!"
4. Calm our nerves – Will RIM be around in two years?
If RIM expects consumers to sign up for two year contracts, and developers to invest into the platform (with paybacks often taking a few years), then you had better convince the world you're not going to disappear. With all the layoffs, mis-steps, product delays, and poor quarterly results, "RIM" doesn't exactly instill confidence. The market doesn't like fear. At the BlackBerry 10 launch, CEO Thorsten Heins needs to assuage those worries.
5. The Enterprise business is not sexy, but it could be RIM's only hope
I know RIM still wants a slice of the consumer business. Promotional videos showcase various BlackBerry-inspired lifestyles. There's the BlackBerry World app store; presumably, cool apps, and a slick hub-based interface that can help manage daily chaos. But, in reality, RIM's core strength is the enterprise. If there's a place where the company should retrench this would be it. Unfortunately the bring-your-own-device headwind is strong. Workers are bringing their iPhones and Androids to work. IT doesn't necessarily like the security issues that raises, and RIM would do well to use that as a wedge against the competition.