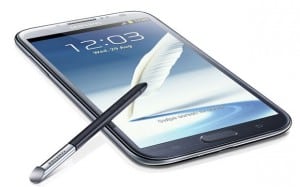 Samsung announced that it has sold over 5 million units of the Galaxy Note II smartphone. Featuring a large 5.5-inch display (about 37% larger than the iPhone 5), the Android-based device has been a huge hit, surprising many who had predicted that the market for 'phablets' (smartphones with a screen larger than 5-inches) was only a niche with limited sales potential. Only the Galaxy S III, another Android-based smartphone made by Samsung, has surpassed the Note II in sales.
"The Galaxy Note 2 has shipped 3 million units in its first five weeks of sales, with sell-through strong in Asia and Europe, and the U.S. gathering pace post-launch," said Nicolas Gaudois, an analyst at investment bank UBS. "We hence forecast 7 million Galaxy Note 2, compared to our initial expectation of 5 million for the fourth quarter."
Currently, the Note II is available in the U.S. on AT&T, T-Mobile and Sprint. Pricing starts at $299 with two-year contract.
UBS forecasts that Samsung will sell 61.5 million smartphones in Q4 – largely in part thanks to the success of large format smartphones, including the Galaxy Note II and Galaxy S III.
Other manufacturers appear eager to tap into the growing market for larger screens. HTC this month took the wraps off the Droid DNA, a 5-inch smartphone available on Verizon Wireless. At $199 under contract, the DNA was well reviewed, with critics especially impressed by its 1080p display, the first of its kind on such a device. The Droid DNA, Galaxy Note II and Google's latest direct offering, the LG Nexus 4, are likely to be big movers this holiday season (though the Nexus 4 remains sold out).
Many predict 2013 will see an increasing number of mobile devices featuring HD displays and larger formats as consumers' preference for all-in-one quasi-tablets/quasi-phones grows.