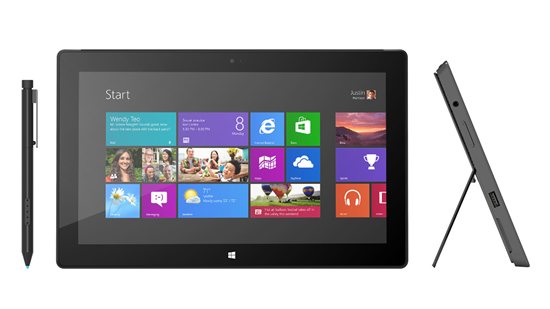 I'm glad I waited this time. For all my early adopter wiring it was something of an anomaly that I decided not to get a Surface RT a few weeks back. It was tempting. I really like Microsoft's Metro/Modern user interface. The overall design direction — white space, pretty typeface, no on-screen navigation icons — really appeals to me. Check out Wikipedia on the Surface (or USA Today, or the NY Times) and you get a sense that there a design team inside Redmond that really gets it. Sure, the desktop experience is wonky; like many of you I don't like the  overzealous approach to jamming touch-based design elements into an environment that is clearly better with a keyboard/touchpad and mouse. Still, sales numbers aside for the moment, you have to hand it to Microsoft for bravely taking a (risky) leadership role in its attempt to redefine post-PC computing.
Now that Microsoft has announced the Surface Pro will start at $899 and feature an Intel i5 processor, 64GB RAM, and HD display, it will join the short-list of potential replacements for my 13-inch 2010 MacBook Pro. The Pro configuration seems to me at least to be a more true realization of Microsoft's vision for the Surface – there is no crippling of the OS, and with an i5 you can actually do serious stuff with it (like run Premiere Pro, Lightroom, etc.) making it a pragmatic productivity tool, not merely a consumption device. In case you missed Microsoft's blog post, heres the pricing summary:
Microsoft Surface Pro

64GB standalone version at $899

128GB standalone version at $999

Note: price does not include keyboard

Specs in brief:

10.6" 16:9 ClearType display that runs at a 1920×1080 full HD (1920 x 1080)

USB 3.0 port

Mini DisplayPort can drive an external display up to 2560 x 1440 resolution

Less than two pounds and less than 14 millimeters thick
Call it an ultrabook, a hybrid, a tablet, or just a funky touch-enabled laptop. Regardless of its name, the Pro may fare better in the marketplace than the RT model which apparently has confused consumers with its quasi-but-not-fully-functional Windows 8 apperances.
The Surface Pro could face serious competition from the MacBook Air, which can be configured with similar specs for about the same price. However, I've decided my next laptop should be touch-enabled. After testing a gamut of Windows 8 devices, I'm convinced that a touch interface is useful for day-to-day tasks. Plus, I'd love to be able to replace my MacBook Pro and iPad/Android tablet travel gear with just one device – the Surface Pro has the potential to do just that.
Meanwhile, I don't expect Apple to stand still. As I wrote the other day, there's still a question around how Tim Cook and team will go about touch-enabling its MacBook range – will the company double down on iOS, or will the dual operating system continue to be the order of the day? Regardless, I'd be shocked if we didn't see a refreshed MacBook line-up in 2013 featuring touch capability. Microsoft, in this case, has first mover advantage. Whether that translates into market success remains to be seen. The Surface Pro is an impressive enough package to at least entice me, and it will be a contender to replace my aging MacBook Pro early next year.