Lesson learned: When you send your son off to "Camp Kickapoo" deep in the backwoods somewhere in Sweden, Maine don't expect him to shower you with love and affection when you visit. Even if it means driving 500 miles from the Upper West Side. And all those letters you wrote – the doting, motherly, tear-jerkers? Try email next time. Spam filters are an easier culprit and simpler explanation as to why they may not have made it to their intended destination.
In Anna Ziegler's Another Way Home, which enjoyed its world premiere last night at the Magic Theatre in San Francisco, there's no such thing as a simmering relationship. Philip (Mark Pinter), a workaholic in his 50s tethered to his smartphone, and his wife Lillian (Kim Martin-Cotten), a photographer who's lost her creative spark, are trying to come to terms with their son Joey (Daniel Petzold), who refuses to smile or see any positives in life. "He's an infuriating kid," says Lillian. "He is an infuriating kid." agrees Philip with a loving smirk. Meanwhile, their over-achieving 16 year-old daughter Nora (Riley Krull) worships singer Taylor Swift – with Krull providing some delightfully humorous moments when she belts out some of Swift's well known hits; "Romeo, take me somewhere we can be alone/I'll be waiting, all that's left to do is run."
What is family?
By the time Mom and Dad arrive at Camp Kickapoo, we're not exactly expecting a fireside "They're ain't no flies on me" style sing-a-long. Instead their son repeatedly drops the f-bomb, decries their visit ("I didn't ask you to come!"), and communicates primarily in monosyllable. Any parent who has a teenager likely knows this routine.
Later something dramatic happens, and the second act of the play revolves around discovery, soul searching and learning once again the compromises and contradictions that challenge the family unit. Joey's camp counselor Mike T. (Jeremy Kahn) plays a pivotal role in bridging communication between parent and child. Interestingly, it reinforces the theme of relationships strengthened via intermediary channels. Email, too, is instrumental in establishing bonds.
The best option: panic.
At times, the play reminded me of the bold, uncompromising indie film We Need to Talk About Kevin (featuring a haunting performance by Ezra Miller); that hatred can run so deep, without explanation. It's not an apples-to-apples comparison, granted. Kevin is pure evil in that film, akin to Damien while here Joey's behavior is a superficial gloss, and is likely traceable to ADD, Adderall, Ritalin, or, maybe, it's just the awkward teenage years speaking.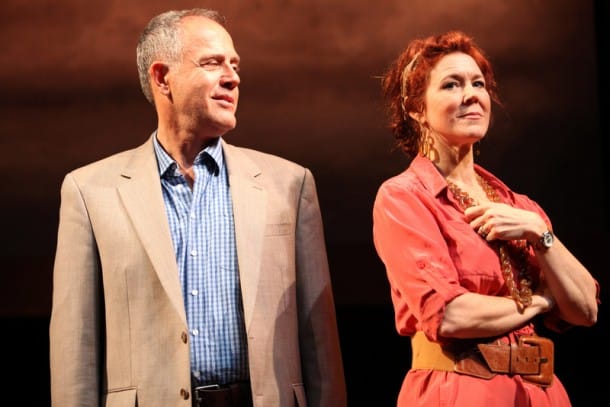 At times the play perhaps veers into domestic bru-ha-ha a tad much (then again, this is a family lost in the woods), but the rhythm of the dialog, and the sharply drawn characters are quality. Casting, too, is top drawer. All five actors deliver convincing performances. Only a few minor issues, and one or two mistimed lighting cues suggested this was an opening night.
Another Way Home is the type of thought-provoking, contemporary material I so enjoy about Magic (in addition to its beautiful location at Fort Mason, overlooking the Bay). It's fresh, current, and hip. Recent productions such as The Other Place and Jesus in India reinforce artistic director Loretta Greco's ability to continually source voices that push the envelope of conventional theater.
Welcome to Camp Kickapoo! Finding 'Another Way Home' at Magic Theatre, San Francisco starkinsider.com/2012/11/anothe… @starkinsider #lettheshowbegin

— Clinton Stark (@clintonstark) November 14, 2012