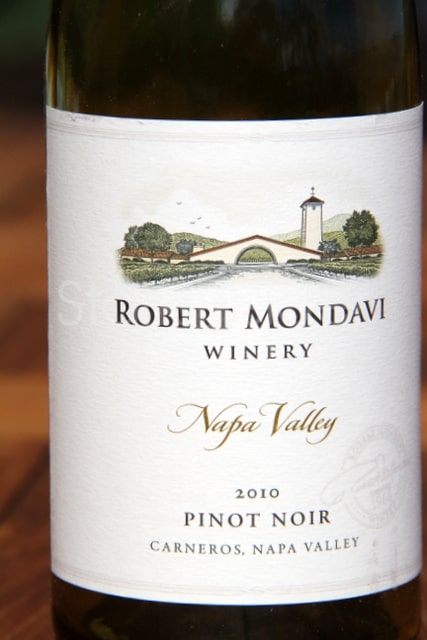 Genevieve Janssens continues to demonstrate why she's one of my favorite winemakers in Napa – and not just because of that french accent. Robert Mondavi wines continue to impress across the board, from their top-end marks like the Private Selection Cabernet Sauvignon (excellent) all the way across to some of their accessible Woodbridge retail brands (try the lightly oaked Chard).
For this wine of the week I'm going with a Carneros beauty. Speaking of favorites, Carneros produces some of the best Chardonnay and Pinot. Those famously cool (chilly!) Napa nights followed by hot-hot days really brings out the best in those grapes. If you're in a bind, standing in front of a massive wine display, you'll likely better the odds of picking a winning bottle by ensuring it has "Carneros" on the label.
At $27 this Pinot is a wonderful every day wine. Mondavi has been farming the variety since 1969, and the experience shows. A truly expressive wine as they say; some of my favorite flavor profiles are here including spicy blackberry, espresso, some vanilla. I've enjoyed this one on numerous occasions with and without food.
[Also see: Amazon to sell wine online "in time for holidays"]
2010 was a prolonged, challenging growing season. Because of the prolonged wet days (many in Napa proclaimed it the "summer of no summer") grapes weren't typically picked until two-to-three weeks later than normal. As a result many of the smaller berries were highly concentrated in flavor. Because of the unusual climate that year, this Pinot might have a little more "fruit forward" than past vintages. Yep, that "expressive" thing again. For me, that's a plus, but if you prefer a lighter touch, that might be something to consider.
Highly recommended. Look for it at local wine stores, or buy direct from Mondavi.
2010 Robert Mondavi Pinot Noir

Carneros, Napa Valley

100% Pinot Noir (93% Carneros, 7% Russian River)

14.5% alc.

$27