Cy Ashley Webb reviews the regional premiere of 33 Variations at TheatreWorks Silicon Valley.
33 Variations presents two distinct groups, each with its own tensions. In the 19th century, Beethoven (Howard Swain) works on his Missa and Diabelli Variations, served by his amanuensis Anton Schindler (Jackson Davis), and nagged by the publisher Diabelli (Michael Gene Sullivan).
In the modern world, Beethoven scholar Katherine Brandt (Rosina Reynolds) is dying of ALS. Almost as intractable as Beethoven, she is served by the truth-teller Gertie, a research librarian in Bonn where Brant tries to uncover Beethoven's supposed obsession with composing Diabelli Variations. The destabilizing element is Brandt's daughter Clara (Jennifer Le Blanc), who seeks some resolution with her dying mother, and who is romantically involved with her mother's nurse Mike (Chad Deverman).
The heart of the play is in these characters. Rosina Reynolds offers up a brilliantly drawn Brandt. While en route to a rather artificial resolution, we never doubt the credibility of her character, as she distances her daughter, remaining as tightly in control as an ALS patient could possibly be. Her daughter Clara infuses the set with youth, uncertainty, and spontaneity. 33 Variations is so well done, that we appreciate both of them.
[Bay Area Dining: Review: Restaurant Gary Danko, San Francisco]
If the 19th century world of Beethoven is more static than that of Brant and her family, it is even more fascinating. Beethoven lovers will appreciate how the master's idiosyncrasies become writ large on stage. Playwright Moisés Kaufman (The Laramie Project) has penned a drama rich in historical detail, such as Beethoven's notorious inability to keep household staff, his slovenly appearance, and his soup-stained manuscripts. Even Beethoven's writing upon window shutters (which is landlord later sold for a small fortune) becomes part of the play. So much of this is done so well, that one wonders why the audience is left with the impression that Diabelli published the Missa. We're shown Beethoven giving the manuscript to Diabelli to temporarily stop his nagging about the long-promised variations.  However, we're not told that he also gave it to six other publishers to inspire a bidding war before it was finally published by Schott.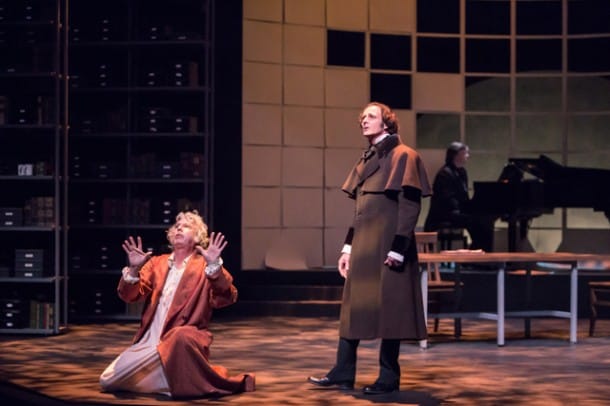 Howard Swain's portrayal of the aging Beethoven is problematic. The Diabelli Variations were completed four years before Beethoven's death. While Beethoven was relatively robust, he was over 50 when he wrote these variations, and only four years from his own death when the work completed. Swain's athletic performance is at odds with the physicality of an older man. Likewise, Swain's performance makes Beethoven out to be more of an irascible buffoon than the supremely temperamental, quarrelsome, arrogant lion that contemporary after contemporary painted Beethoven to be.
Perhaps being Beethoven is just too demanding a role. Given his depression and suicidal moments, it certainly was for Beethoven himself. If Swain's performance seemed uneven, Michael Gene Sullivan is superb. The more I see Sullivan, the more I appreciate his enormous range as an actor.
[Bay Area Stage: Review: A Beautiful Mind in 'The Other Place']
Minor flaws aside, TheatreWorks brings us another excellent evening that speaks to the porosity of past and present. In one of the most tender moments of the play, Brant leans into Beethoven's shoulder. The gesture seems almost accidental, as she's unaware that he sits on the table with her.  The moment ends almost before it begins, yet remains central to the entire action. The willingness to inform and be informed crosses the boundary between life and death  and is one that playwright Moisés Kaufman traverses easily.