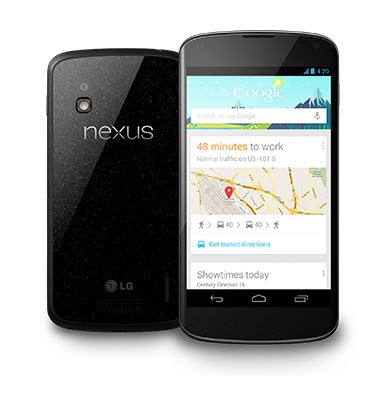 Not exactly the biggest surprise in tech, but Nexus news is always good news in my books. Though it cancelled the New York media event because of hurricane Sandy, Google still made a few announcements today the old fashioned way: on its corporate blog (Nexus: The best of Google, now in three sizes), and without the benefit of one Jessica Alba. Shame that.
Nexus, as Google states, is now available in three sizes. Joining the already popular Nexus 7 tablet, is a new larger 10-inch version dubbed the Nexus 10, and a new LG Nexus 4 smartphone.
The new LG Nexus 4 smartphone and Nexus 10 tablet will be available for purchase via the Google Play Store on November 13.
Here's the need-to-know regarding pricing straight from Google:
Nexus 4: 8GB for $299; 16GB for $349; available unlocked and without a contract on 11/13 on the Google Play store in the U.S., U.K., Australia, France, Germany, Spain and Canada. The 16GB version will also be available through T-Mobile for $199, with a 2-year contract (check here for more details).

Nexus 7: 16GB for $199 and 32GB for $249; available in the U.S., U.K., Australia, France, Germany, Spain, Canada and Japan, and also through our retail partners Gamestop, Office Depot, Office Max, Staples and Walmart.

Nexus 7 with 32GB and mobile data: $299 and unlocked, on sale 11/13 in the Google Play store in the U.S., U.K., Australia, France, Germany, Spain and  Canada.

Nexus 10: 16GB for $399; 32GB for $499; available on 11/13 in the Google Play Store in the U.S., U.K., Australia, France, Germany, Spain, Canada and Japan.
In addition, Google confirmed the Nexus 4 will ship with Android 4.2 (which retains the "Jelly Bean" moniker). The update features Photo Sphere (thesaurus-speak for panorama?), Gesture Typing (a la Swype), wireless display (Google's answer to Apple AirPlay), and new Google now cards (flight information, restaurant reservations, hotel confirmations and shipping details).
I checked my unlocked Galaxy Nexus this morning. Alas, no 4.2 system update yet. I know, a little ambitious, but one can hope.
Many are none to pleased that the Nexus 4 does not feature LTE. For me, not a biggie. Rather, I prefer to have the HSPA+ unlocked version sold directly by Google. I find 4G speeds on T-Mobile plenty fast, and battery life is also better; the LTE antenna is known to be a real drain.
Interesting that Google opted not to lower the price (say, to $199 unlocked) and push the existing Samsung Galaxy Nexus down the line – something we routinely see Apple do with the iPhone.
Is there enough here in the new LG Nexus 4 to upgrade from the Samsung Galaxy Nexus (2011)?
I'm thinking not. Once Android 4.2 hits the Galaxy Nexus there's little – aside from processor speed (Qualcomm Snapdragon S4 Pro) – to differentiate the two. Sure, the IPS display (4.7-inch, 320ppi) on the LG will be an improvement and wireless charging is nice to have, but I'm not convinced there's enough reasons to dump my extremely well performing Nexus on Craigslist or Gazelle just yet.