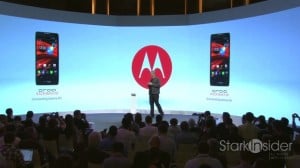 Google today took its best shot at one-upping Apple in advance of the impending iPhone 5 launch. Trumpeting the "new Motorola Mobility" the division unveiled three new Android smartphones (or as exec chairman Eric Schmidt would prefer to call them: super computers).
Droid RAZR HD features a 4.7-inch Super AMOLED HD screen, 1.5GHz dual-core CPU, 2,500 mAh, 16 hours talk time (almost double the competition). Available in black or white.
Droid RAZR Maxx HD adds an upgraded 3,300 mAh battery, 32GB storage. With the extra juice the new Maxx can stream up to 27 hours music over LTE, 10 hours of video. Available in black only.
Both of these models will be available in stores before the holidays.
Droid RAZR M comes with a 4.3-inch display with Gorilla Glass with "almost no borders." 40% more screen area than an iPhone 4S, 8MP camera, NFC, Kevlar, 1080p video capture, 8GB storage, 1GB RAM. Available in black or white.
The RAZR M is available for pre-order today, and will be in stores next week for $99. No pricing was given for the RAZR HD or RAZR Maxx HD, though based on traditional flagship models expect $199 or $299 with two-year commitment.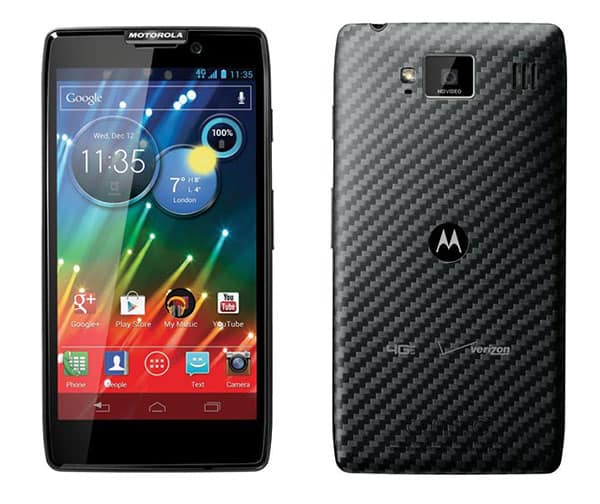 All come with the Google Chrome browser pre-installed, which the company points out is the "fastest browser" and the "fastest growing browser" – though the demo in NYC once again proved that live tech demos will always go wrong. Blame the roomful of "wireless reporters."
Google executive chairman Eric Schmidt made a surprise appearance, and reinforced Motorola's history and the evolution of the market from desktop to mobile.
"When was it that these trusty phones – invented of course by Motorola – were replaced by powerful super computers?" asked Schmidt.
"They really shouldn't be called cell phones anymore. They should be called mobile computers."
Per Schmidt, there are now 1.3 million Android device activations per day. 70,000 of those are tablets. Install base sits at about 480 million devices. As he notes, "this puts us at the largest in the world, two or three times larger than the competition."
Dennis Woodside, CEO Motorola Mobility added that today's high speed networks mean we're more likely to user our phones, "4G users check their phones on average 63 times per day."
Verdict

Rating: B-.

The event went as expected. Nothing too dramatic here. Though the extended version of the RAZR HD with a substantive battery will be a nice surprise for many. These are certainly not the prettiest designs.

It appears Motorola will not take the Nexus crown for itself.

Moto, though, is making a smart choice in emphasizing battery life as a key differentiator. As was mentioned, a smartphone tethered to a power outlet is not exactly a mobile device.

It appears none of the Droids will be available unlocked via the Google Play Store (though I could be wrong about that).

Another negative, none of them ship with Jelly Bean (Android 4.1) – but we're told all will get the updates real soon (where have we heard that before?!)

The RAZR M is a $99 entry level model. It does bring plenty of bang for the buck, but for a guy like me who favors power, larger displays, and the latest OS it simply will not be on my Q4 upgrade short-list.

Note that Motorola has opted for on-screen navigation buttons, eschewing the capacitive ones we saw earlier today on the Nokia Lumia 820 and 920 Windows Phone 8 devices.

Meanwhile, I can't help but think the unlocked Google Galaxy Nexus is still the business. It runs Jelly Bean, looks great, has much better battery life than the LTE version, and does anything these new Moto models can.

Those of us looking to upgrade in Q4 have some solid offerings with the RAZR HD and RAZR Maxx HD. They're well made – I especially like the Kevlar backing. But for the true power hungry, aficionados, I suggest waiting to see what Google does next with the Nexus range. Hopefully that will happen around Thanksgiving. There I'd expect true ooohs and ahhhs.