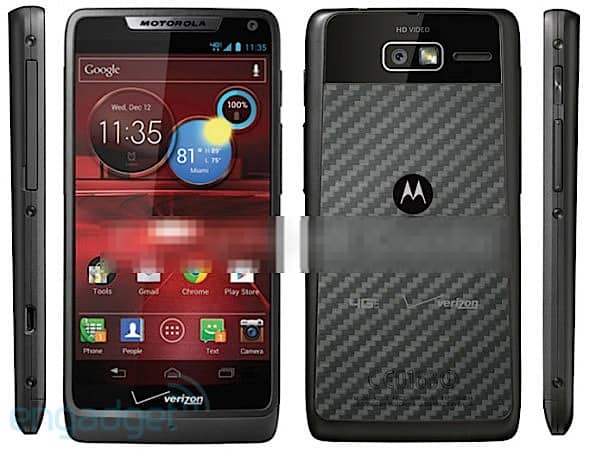 Motorola has invited press to an invent on September 5 ("Motorola on Display"), and our best guesses so far is that it will use the event to unveil a new Android smartphone. Most likely it will be a new flagship model, hopefully spec'd to do battle with the mighty (and safe from ban) Samsung Galaxy S III, the underachieving HTC One, and the still-going-strong Google Galaxy Nexus (my current favorite). An email this morning from a former Silicon Valley colleague alerted me to what Verizon and Motorola might have up their sleeves (also similar info was published here).
First, expect the phone to carry the RAZR moniker. We had heard previously that this would be the "RAZR HD" but that's not likely to be true. In fact, general consensus has it the phone will instead be labeled an "M." If it were a BMW, it would pack a wallop…
Which brings us to the rumored specifications for Moto's upcoming flagship, plus my brief commentary.
Snapdragon S4 1.5GHz dual-core processor – nothing new here, this is essentially the standard for a decent 2012 Android.
4.3-inch qHD Super AMOLED display with 540×960 resolution – underwhelming! If this turns out to be the actual screen specs, consider the RAZR M a no-go for enthusiasts; I could see appeal here for those who like a smaller display perhaps. (BGR reports the resolution will actually be 720×1196)
RAZR-like profile and design, including Kevlar backing – to be expected, the RAZR has a great design.
1GB RAM – par, but trails the S3.
8GB Storage
8MP rear-facing camera
3MP on front
Gorilla Glass 2
Android 4.0 / Ice Cream Sandwich – another huge letdown. Carrier branded phones are taking forever to see Jelly Bean upgrades (witness the Google Galaxy Nexus vs. the Verizon Galaxy Nexus).
LTE
NFC
2530mAh battery – this is a bright spot. Not quite as big as the RAZR Maxx battery, but larger than the S3 and Nexus.
Price? While some suggest it will go for as high as $299 on contract, BGR is reporting Verizon will offer it for $149 with two-year commit.
Overall, this is not the handset us RAZR fans were hoping for. There's not a whole lot of advancement here – at least from what I can see – over the RAZR and RAZR Maxx models we saw at the beginning of the year. As a mid-range device for only $149 I can see the potential. Clearly Motorola (like Samsung did before it with the S III launch this summer) is trying to get a leg up on the impending iPhone 5. I'm not convinced the Apple Faithful, however, will give the RAZR a look. Any iOS users on the fence, have likely already made the jump to the S III. Most, as we know, would never consider the dark side — the world of Droid! Nexus! ahahaha — and an annual iPhone upgrade is as automatic as taxes.
I'm on an unlocked Google Galaxy Nexus which is still one of the best, if not the best, Android out there. Sure, it lags the S3 a bit in absolute horsepower, but I prefer the Nexus' softkeys (Google finally has them right: "back", "home", "recent apps") and the fact that it runs Jelly Bean, the latest and greatest — and utterly smooth — Android OS.
Aside from avoiding carrier lock, and the potential for ETFs, the main reason I went with an unlocked phone direct from Google was so I could have the flexibility to upgrade unencumbered when the Q4 wave of Androids hit. Word is we'll see a stable of Nexus devices by Thanksgiving, possibly with some made by partners other than Samsung. We knew an updated RAZR was coming too. But if this is the best Moto can do, then this is going to be a bitter disappointment for us hardcore Android fans, and pretty much takes it out of contention.
It's looking more and more like my next Android will be the 2012 Nexus. That should arrive by November, possibly December at the latest. Hopefully it brings more to this fight than this underwhelming RAZR M. Moto: please return the "M" to BMW.