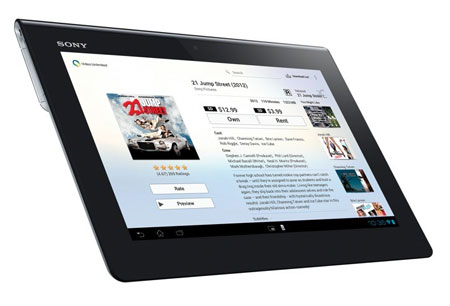 It looks like Sony has learned a thing or two. Second time around, Sony's refreshed Xperia Android tablet is looking like a well-designed, slick offering. Dubbed the Xperia S, Sony will start shipping the splash-proof 9.4-inch tablet for $399 (16GB) starting September 7. 32GB and 64GB versions will also be available for $499 and $599 respectively.
Gone are the quirky book-like curves and odd physical design of the previous design. And there's no such silliness as the dual screens as seen in the poor selling Tablet P.
The new model features a light aluminum body which gives it a modern aesthetic especially when compared, for instance, to the plasticky Samsung Galaxy Tab range.
Specs are impressive enough, and could even tempt potential iPad buyers: NVIDIA Tegra 3 quad-core processor, 9.4-inch IPS screen (1,280×800 resolution), SD card slot, 1GB RAM, 1MP front- and 8MP rear-facing camera, splash-proof design, ClearAudio+ mode (by Sony), HDMI connectivity, Android 4.0 Ice Cream Sandwich.
Sony continues — along with the PlayStation 3 video game console — to make a push for control of the living room. The Xperia S includes an IR blaster that enables users to control a television, and apps for pulling up TV guide information.
Several accessories will also be on offer including a Docking Stand ($99), Cover with Keyboard ($99), Simple Stand ($25), Charging Cradle ($40), and Dock Speaker ($130).
Early Verdict
Looks promising.
We wish the price was $100 less. Also note that only Bluetooth 3.0 is included which could be disappointing for some. And also, though Sony does promise an upgrade to Jelly Bean (where have we heard this before?), the tablet ships with an older version of Android (4.0).
Sony does make great hardware, and the Xperia S looks to be no exception. All things equal this could be a better pick then the Samsung Galaxy Note 10.1 – assuming you don't need a stylus.
The Xperia S ships September 7, but you can preorder it now here.