Kickstarter, a web site founded in 2008, has become wildly popular when it comes to raising funds for all types of projects. Most notably it has been used by start-ups to source seed funding (Twitter alternative App.net is an interesting, recent example), and for inventors to attract backers for not-so-mainstream gadgets and even fantastical concepts and ideas. Meantime, the service and its investors — like eBay and PayPal before it — benefit from acting as brokers, taking a cut of the proceeds (5%) raised in each of these transactions (if the funding goal is achieved). Volume can make that a lucrative crowd-sourced business.
But what about theater?
Can theaters tap into this new world of crowd-sourcing and social media-based philanthropy to extend their reach when it comes to defraying budgetary pressures?
That's exactly what the San Jose Repertory Theater is hoping. Earlier this month artistic director Rick Lombardo announced that he was turning to Kickstarter with a goal of raising $15,000 for set designs for the upcoming world premiere of The Death of the Novel (more about the production which stars Mad Men's Vincent Kartheiser, aka Pete Campbell). With 7 days to go the project has achiever about 33% of its goal. It's going to be a tight finish. Someone text Michael Phelps.
The photo at the top of this article is a model of the set by designer John Iacovelli, which Lombardo posted on Kickstarter as part of an update to backers.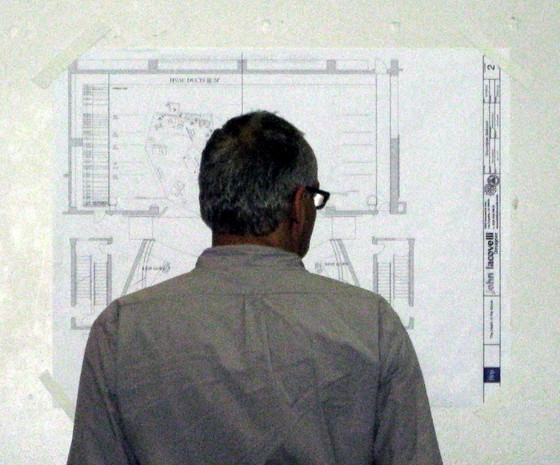 By no means is this campaign the first of its sort. As I discovered searching across the Kickstarter site, there's a myriad of active projects in the categories of Art and Theater.
Some are small, like this one here by a high school group in Chicago looking to raise $5,000 to "help students rehearse, design, market, and perform their own Shakespeare production!"
Others are born out of desperation (not exactly an uncommon theme for arts organizations these days), such as this "Save the Lyric!" campaign out of Colorado. Mission accomplished. That project raised $158,000, or about 106% of its goal.
Locally on Kickstarter there's a variety of active projects. Counting all categories, and not just theater, Oakland has 247 projects. Berkeley 103. San Jose 87.
Here's some interesting facts about Kickstarter:
— It's an all or nothing deal – you only get funded and access to the money if you reach your goal; setting the right goal — not too high, not too low — is an important determination. Miss your goal and you get zip even if the project is 90% backed.
— Kickstarter can not be used by charities. The goal is to inspire and support "creativity." It also can't be used to solicit investments or loans.
— The average pledge is $71, and the most common pledge is $25.
— Kickstarter's fee is 5% (for successfully funded projects).
— Starting a project is free.
For arts organizations, Kickstarter could look like a massive megaphone. It can be a huge boost to marketing efforts. The site's reach, with millions visiting on a regular basis, is likely unmatched by what most individual playhouses can achieve with their existing web prescence. Merely posting a project, of course, doesn't mean success is imminent. Word still needs to get out — and it's unlikely a random Kickstarter visitor will fund a project not somehow close to his or her heart. But in this day and age of social media and mobile when ideas and information go viral daily, the platform is surely an interesting option for those looking to tap into the crowd-sourcing phenomena.