Considering an upgrade to the technological tour de force that is the Samsung Galaxy S III uber Android smartphone? If you're an existing Verizon Wireless customer I've discovered you needn't worry about losing your unlimited data plan. I suspect I'm not alone in that concern.
Attempted calls to Verizon and chat sessions to clarify if upgrading my OG Droid (finally!) would allow me to keep the unlimited plan resulted in plenty of loop du loop – I got nowhere fast, and wasted more than a few minutes on hold, or typing the same question over and over again only to get the proverbial (and incorrect), "I can help you with that." Regardless, I've been satisfied with Verizon over the years.
So I went ahead and put my pre-order in via the Verizon web site for a 32GB Pebble Blue (they don't offer black, so blue it is) Samsung Galaxy S III. Low and behold, the $29.99 monthly unlimited data plan ported over with nary a hitch – see photo below for the nitty gritty.
If you're on Verizon and are considering the upgrade I suggest you do it sooner than later. Word is Big Red will soon pull the plug on unlimited data, though we're not exactly sure when that will happen.
Regarding the S III smartphone itself I think we have a winner. Reviews have been at worst extremely positive ("Even iPhone users should take a look"). Many are saying Samsung's latest is better than the iPhone 4S. But of course! The S III runs ICS, features a gorgeous 4.8-inch display, 8MP lag-free camera and has the best nav in the business.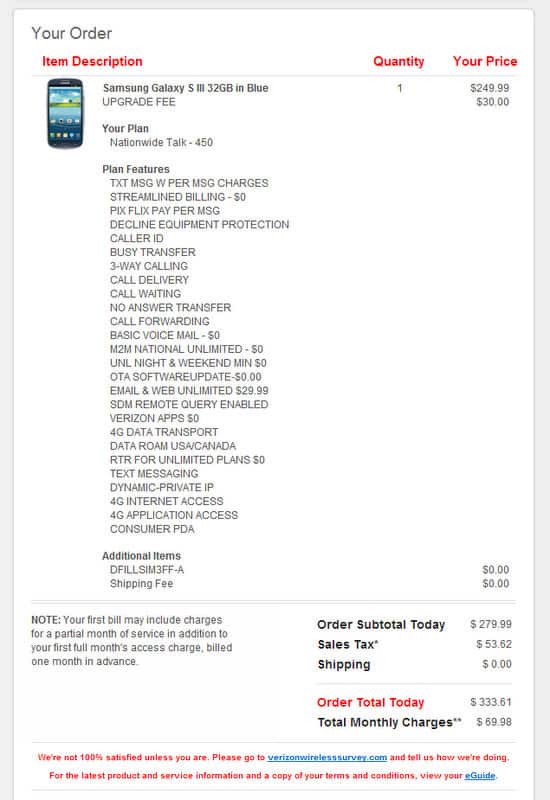 Those following my Android adventures on Stark Insider might want to breathe a sigh of relief as I will no longer be lamenting my upgrade decisions (aka "dilemmas"); recall back in December 2011 I "passed" on the Galaxy Nexus. Heck, it was a tantalizing showcase, but just like the Price is Right I knew the real deal would be just around the corner. While the HTC One X is compelling (though, not available on Verizon) it was the S III that finally proved to be a phone I could live with, under contract, for two years.
All is not super-peachy. I'd change a few things about the S III: I prefer softkeys as seen in the Samsung Nexus, and I'd like to see something like the three pins on the Nexus that make it easier to dock (you don't need to use the micro-usb which can be a pain to lock into place). Oh, and TouchWiz be gone already. Fortunately, with my wi-fi only, sim-less S II I was able to root, and flash ICS (CyanogenMod) and enjoy the pure Android 4 experience. Hopefully in time I'll be able to do the same with the S III.
There are at least two upcoming events that could result in buyer's remorse:
(1) the imminent release of more unlocked pure Google phones – I appreciate the flexibility of unlocked phones; one caveat would be that it would require a T-Mobile or AT&T plan which would mean kissing goodbye to unlimited data: no, no no.
and
(2) the release of the Motorola RAZR HD (Droid Fighter) – I've always appreciated Moto hardware, and being on an OG Droid from 2009 feel a certain amount of loyalty (but, obviously, not that much!) to the American brand.
So there you have it. Get a Samsung Galaxy S III and keep your unlimited data plan. If you're wondering about ship date, on the confirmation email Verizon indicates it will ship by 07/09/2012.
I will miss OG Droid, though I hardly ever used the slider keyboard. Still, that phone represents for me the beginning of the "Droid Does" era, and a remarkable ascent for Google's OS in only three short years.