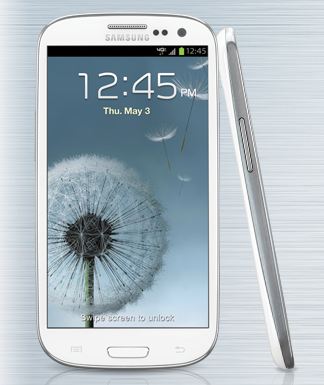 Samsung's hugely anticipated Android flagship smartphone, the Galaxy S III will be available for pre-order from Verizon Wireless on June 6 (at 7am ET) and ship later this month.
Prices start at (a reasonable) $199 for 16GB, and $249 for 32GB. As always, a two-year contract is required. This version of the S III is available in either white or pebble blue, and according to the Verizon web site (oddly) not in black. This could be a clever way for Samsung to stand out from the mass of non-descript black Androids flooding the market.
Also, the iPhone combatant can also be purchased on AT&T, Sprint, and T-Mobile, marking a rare first for an Android smartphone to be so widely available on U.S. carriers at time of launch.
When it comes to specs, the Samsung Galaxy S III stands tall and mighty: 4.8-inch HD Super AMOLED (1280 x 720), 8 MP HD camera (with "zero shutter lag"), S-Voice (Samsung's answer to Siri), Android 4.0 Ice Cream Sandwich, Gorilla Glass 2.0, 2GB RAM, and a removable 2,100mAh battery.
One thing notably absent is a quad-core processor. LTE and its unique technology requirements necessitate the use of a dual-core Snapdragon S4 processor in lieu of the faster one seen on the version shipping overseas. Still, from everything we've seen, there have been no complaints about the performance of the S III.
Reviews have been overwhelmingly positive. Some have called the Galaxy S III the best smartphone on the market, besting even the Apple iPhone 4S. The summer launch does give Samsung a potential leg up in this market that increasingly favors larger displays. At a comparatively tiny 3.5-inches, Apple only ships one size of iPhone.
[Verizon Wireless Pre-order page]