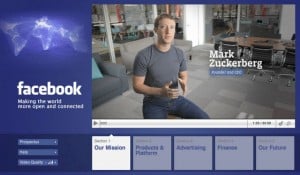 Want to get a look inside Facebook's operating model? Now you can, at least "inside" so far as a slick, scripted presentation will get you. Still, you can now watch this "retail" roadshow video, a public version of the pre-IPO roadshow, which involves a series of investor presentations (tech-ins) at major cities, including New York and San Francisco, over the next 10 days.
The 30 minute video, replete with soft non-descript music and plenty of storytelling ("When I was in middle school I was using search engines!"), features CEO Mark Zuckerberg discussing vision (and how he had to sell ads to afford his $80/month servers in college), VP Product Chris Cox and COO Sheryl Sandberg. And since this is ultimately about investing and risk, CFO David Ebersman is the adult host.
My favorite dramatic inflection occurs when Sandberg tells us that Facebook has a daily audience as big as… an American Idol final … (beat, beat) times two!
Being a bit of a semi-reformed fast talker myself – literal that is… well, maybe figurative too – I sensed an off-camera coach telling everyone to s-l-o-w down. Okay, now, pause! Take a breath! I can feel these minds moving a million miles per hour; delivering a carefully structured sentence followed by a full stop is an exercise in awkward non-conformity.
After watching the video, I still find myself a little apprehensive about a company who's leaders finish sentences with question marks?
To harp too much on style, of course, would totally miss the mark. While there's no amazing reveals in the presentation – Facebook has a huge base of approximately 900 million users and advertising is the billion dollar engine – there are several interesting bits of information:
* American Express scaled an ad campaign ("Small Business Saturday") to reach over 200 million potential customers via Facebook and a page that reached 1.5 million likes
* Ben & Jerry's performed a marketing mix analysis and determined that for every $1 it spends on Facebook, the company receives $3 in return
* Only about 11% of advertising is online says Sandberg; most of it still goes to tv, print, radio – even though our social behavior online suggests the majority of our time is not spent in those places
* Recent quarterly revenue: Q1 2012 $731 million, Q2 2012 $1,058 million (45% q/q growth by my calculation)
* Simple ad mechanics as explained by Ebersman: AD REVENUE = NUMBER OF ADS (number of users, product decisions, user engagement) X PRICE PER AD (target user audience, ad performance, advertiser demand)
* Facebook just began rolling out Sponsored stories on mobile in early 2012
* 2011 Average ad revenue per user: US and Canada $9.51, Europe $4.86, Asia $1.79, ROW $1.42
* Key to future ad growth per Ebersman is to make ads more social, relevant, engaging (in other words, if you think you've seen viral think again!)
* "Expect us to invest heavily in mobile…"
* The final remark by Zuckerberg… "And that's all powered by Facebook…"
You may wonder where all the employees are in this video which looks like it was shot at Facebook HQ during the day, with nobody in sight.
What I find most amazing about the advertising aspect of Facebook (and Google) is the degree of precision when it comes to targeting a specific audience. Sandberg says they're 90% accurate. So if you want to reach 25-34 yr old women in San Francisco interested in Mad Men, you can get incredibly accurate results. I've used Facebook ads in the past to promote Stark Insider and other businesses. The results have been quite respectable. If you run a CPC campaign you can also benefit from free branding where your ad/logo is shown to thousands of targeted users, and only pay for actual clicks. The irony is not lost on me that by advertising our Facebook page, we were ultimately paying to market Facebook itself. An irony that I don't think is lost on investors.
WATCH: Facebook Retail Roadshow