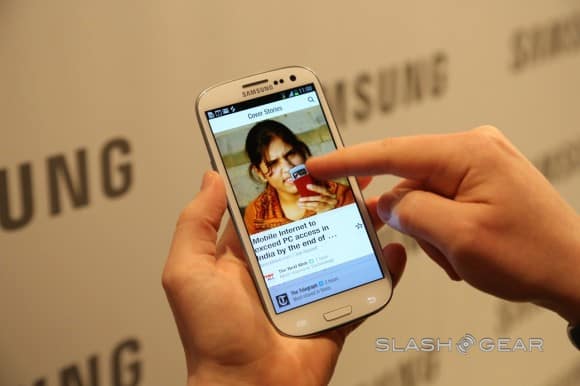 UPDATE: I just learned that the S III will be the first Android to receive a port of Flipboard, the macdaddy of newsreaders, and currently only available on iOS. That alone could push the S III ahead of the Motorola Droid Fighter and HTC One X in the showdown of nextgen Android titans.
Samsung unveiled its flagship Galaxy S III Android smartphone today in London. The sequel to the best-selling S II should be a global mega-hit, and challenge Apple's upcoming iPhone 5. By announcing early, Samsung puts itself in a position to possibly steal share from those not willing to wait.
But the announcement left us would-be overseas upgraders without one key bit of information: When? As in, when will the uber-Android, the one that everyone's been waiting for, make it to Verizon Wireless? The answer: we don't know. Samsung did not say.
Other than the that wee bit of useful information, the launch gave us pretty much what we already knew about the S III. It will ship with a quad-core Exynos processor (though, once again, we're likely to see a Qualcomm dual-core chip in the U.S. variant), a 4.8-inch HD Super AMOLED 720p display, 8MP camera, 1GB RAM. Ice Cream Sandwich (Android 4.0) comes standard along with – unfortunately – TouchWiz, Samsung's custom overlay that adds functionality to the stock Android experience.
Europe will get the Galaxy S III first, with an expected ship date of late May (possibly early June).
Asia will follow.
US will get it … ?
If you're like me and ready for an Android upgrade this year, I'd rank the Samsung Galaxy S III right alongside the HTC One X and Motorola Droid Fighter (or HD?) as the top contenders. Meanwhile my OG Moto Droid is on its 31st month and still going strong (albeit far slower than my rooted S II running ICS).
Color me slightly surprised that the world's now #1 maker of smartphones (Samsung shipped 44.5 million units in Q1 2012), would not have a cohesive globally-focused launch for the S III. It's almost as if we're suffering payback. For the longest time we, in North America, would get the new model love, followed then by those overseas.
There could be a more pragmatic reason as to why the company is focusing on Europe and Asia first. Those markets are experiencing faster growth rates when it comes to mobile sales, and, further, many of them – especially emerging markets – lag the saturation levels we see here in the U.S., Canada and Mexico. So, yes, opportunity does knock.
For a Samsung Galaxy S III hands-on, visit Slashgear who write in their first look, "Is that enough to keep Samsung in its top-spot in the cellphone market, and make the Galaxy S III another best-seller? It certainly looks that way to us."