UPDATE: Note the quad-core S3 is not yet confirmed for the U.S. market as pointed out in the comments, though it is official for the S3 handset to be announced May 3 in London per pr today from Samsung. If history is any indication – HTC One X – we may unfortunately see another LTE concession in the form of a Qualcomm-based dual-core in a domestically crippled S3. Regardless of how this plays out, the S3 and Droid Fighter should be pretty evenly matched. And as for my prediction about quad-core handsets in North America for 2012: well, I still have time to get that right, if not slightly delayed. Hey, London's a good place to live, right?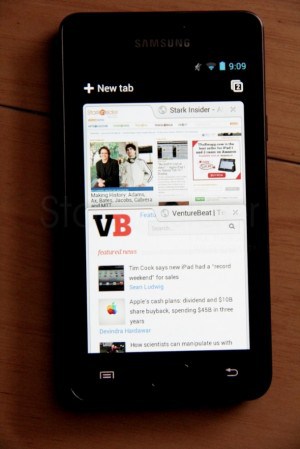 Quad-core Android looks to soon be a reality on these shores. Samsung has revealed that its upcoming Galaxy S3 Android smartphone will run on an Exynos 4 Quad, a 32nm chip that will enable full 1080p HD streaming (at 30 fps), smooth multi-tasking thanks to its multiple cores, and give customers the right to lay claim to owning one of the most – if not the most – powerful smartphone on the planet. Per Samsung, the processor is "already in production" and "is scheduled to be adopted first into Samsung's next Galaxy smartphone that will officially be announced in May."
Yep, it's a honker, alright. The previous model, the S2, was no slouch and became the company's best selling handset. No wonder, it's well made, runs Android extremely well (especially if you root, install the Cynaogenmod ROM), and features a gorgeous 4.3-inch Super AMOLED display. So expectations are rightfully high for its successor.
Quad-Cores… finally
Admittedly, I was overzealous in my predictions for quad-core Androids back in January at CES. Nothing came of that. And then Mobile World Conference was a bust too – unless you lived in Europe where the HTC One X would be available with quad-core internals, unlike its bland American dual-core cousin. Finally, though, it appears those who have been waiting to upgrade have some tempting alternatives.
Droid Still Does
I never expected to be running an OG Moto Droid for some 30 months ("Droid Does" – November 2009). Nexus looked great, performed great, but its battery was a disaster. RAZR Maxx improved upon that greatly. But I've been holding out for quad-core simply because I don't want to be left with an underperforming phone one year into contract. Clearly, there are two great choices looming for us would-be upgraders, but which is better:
Samsung Galaxy S3 or Motorola Droid Fighter?
We know the S3 will be quad-core, but the Droid Fighter (HD?) is likely to arrive with a TI ARM-based dual-core, albeit still a fast performer. If history is any indication, Samsung's display will be yet another stunner. Battery life on both models will be a huge question mark, though in today's press release Samsung touts the power efficiency of the Exynos claiming it draws 20% less power.
The decsion between the two Android options may come down to carrier. Like a lot of early Droid converts (was I really on a BlackBerry 8700c prior to the OG Droid!?) I'm on Verizon, and thankfully grandfathered on unlimited data. Making the jump to AT&T is likely not in the cards.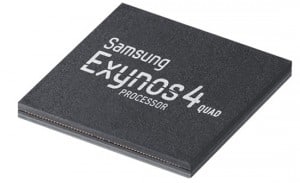 But do processors really matter?
All this talk of chip design, cores, and power management; do consumers really care about all that I wonder? I do, but then again I'm probably an outlier, being an Android Apologist and all. I suspect all that matters is the actual user experience – running apps smoothly, catching up on Facebook, Twitter and G+, browsing the web with quick load times. Regardless of the internals, isn't that really the end game. Yes, but look at Apple and the iPhone 4 and 4S launches. There's a company that knows a thing or two about the user experience, and selling us a lifestyle. And yet, there were those (proudly) Apple A4 and A5 cortex chips, front and center, in starring roles. They even received large landing pages on the Apple web site. Now, hoping to snag iPhone 5 sales, Samsung pre-announces its new chip, and issues a press release in advance of the S3 actual arriving (May 3, London). There's no doubt gamesmanship as both companies frame their market positioning based on what they perceive to be differentiators that the consumer will care about. Samsung would do well to steer the conversation away from apps, where Android suffers in comparison to iOS, and flog the heck out of that Exynos 4 Quad. 30fps 1080p in your hand? I'm game.