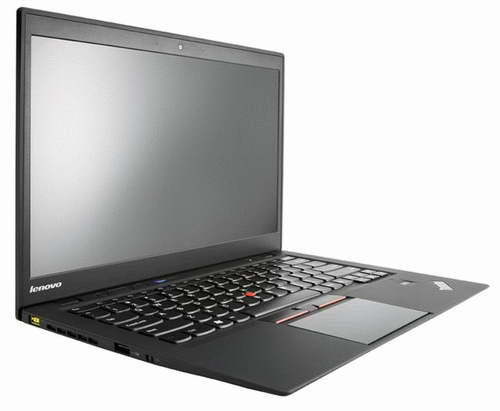 Lenovo gave us a peak at it upcoming X1 Carbon. Scheduled to arrive this summer, it's being touted as the world's lightest 14-inch ultrabook. And – I'll be damned – if it doesn't remind me of the best ThinkPad designs of yesteryear, and question whether the upcoming MacBook Pro will really be king of the hill.
Based on what I've seen so far the X1 Carbon could very well be a sleeper. Quality is top notch, there's that killer world-beating keyboard (MacBook Pro is a close second), and that redhead track pointer tempts with its on-keyboard convenience. Oh, ThinkPad how I miss you!
In 2010 I made the jump to the MacBook Pro. I gave up some things, like the aforementioned trackpoint and superb keyboard, but in return gained a few; namely Apple's awesome display. Aside from the fact that I'm not a fan of that glossy reflection, I can't find a single laptop screen (or desktop monitor for that matter) that bests the contrast, clarity of those on offer by Apple.
But a summer showdown looms.
2012 MacBook Pro
Apple will likely update the MacBook Pro range in June at WWDC. Although it will represent the first re-design in 4 years, the updated models will likely be evolutionary. Expect faster, smaller… but, knowing Apple, not necessarily cheaper.
If you've bought into iTunes, and enjoy purchasing your content such as movies, music, books there, then chances are you also own an iPhone and/or iPad. In that situation the MacBook Pro would be the favorite.
If you're like me, and prefer Amazon MP3 or, better still, Google Play (with 320kbps encodes!), then there's no benefit to iTunes. In fact, I find the software to be cumbersome and in much need of a makeover.
That aside, does Apple know design or what?
Take that anodized aluminum chassis, a brilliantly machined unibody. You won't find flex, or any sort of shimmy here. Oddly, though, the lid of my 2010 does creek occasionally when adjusted. When it comes to gestures, no one beats Apple. I find two finger gestures on Windows-based laptops (even the newer ones) dodgy at best.
Lenovo X1 Carbon
We don't know the price yet. Suffice to say, it will be hefty, likely placing the 14-inch ultrabook near the top end of the scale. I haven't seen it in person, yet, but I'm hoping Lenovo nails the display – it's a key point of differentiation for all of Apple's products. Reportedly the X1 comes with a 1600 x 900 resolution panel with 300 nits of brightness. Good on paper; real world, we'll see. I like that you can rapidly charge to 80% full battery in only 30 minutes. That's convenient for the jetset.
Best of all is its size: 3 pounds, 18 millimeters thick (at its thickest point).
Countering Apple's robust built is Lenovo's choice of carbon fiber for the frame. We see the material used in racing. It  sheds weight, but not at the expense of stiffness. Typically, it's also expensive. Again, expect the pricetag of the X1 Carbon to match.
I used to think that 14-inchers were no man's land. Lately with the somewhat cramped screen on my 13″ MBP Pro causing lots of two finger scroll action, I've resigned myself to the fact that bigger could be better.
2012 MBP Pro or Lenovo X1 Carbon?
If Apple puts the 15-inch MacBook on enough of  a diet, and if that "Retina" display delivers the goods, then I'm designating it the incumbent. Sure, it's not categorized as a true "ultrabook" but there's no question many will cross-shop the two products.
If the Lenovo's battery life can match or at least come close to Apple's best, and if that trackpad (Windows drivers notwithstanding) can give us the kind of gesture responsiveness we see on the iPad and MacBook then I think we have a winner and a possible upset. Enterprise buyers will likely add the X1 Carbon to their internal price lists, and it will sell like hotcakes.