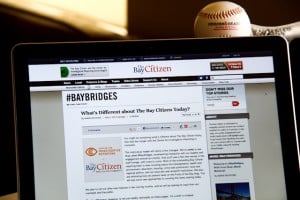 The Bay Citizen, one of the country's pre-eminent publishing projects, is no longer the web site we once knew.
Earlier this year the non-profit – which launched in 2010 featuring prolific partnerships with UC Berkeley and The New York Times – merged with CIR. I'd never heard of CIR before. The "Center for Investigative Reporting" apparently took over operations with their leadership team assuming all of the key roles. I presume many of the former Bay Citizen staff were cut loose as none of the names on the updated site are ones I recognize from before. Here's an excerpt regarding the changes from a blog post What's Different about The Bay Citizen Today? on their site yesterday:
With a renewed focus, we're going to stop doing some things. We won't be chasing after breaking news, covering press conferences, competing with the local media or covering arts and culture the way we previously covered these topics.

We're going to focus our energy on finding and delivering more high-impact enterprise and investigative stories in the Bay Area. We're looking for stories that hold to account government officials, public figures and the leaders of local institutions.
One thing that becomes readily apparent is that theater, arts, culture coverage is one of the most difficult (possibly eternally impossible?) beats to achieve return on investment. So when Mark Katches writes that they won't be "covering arts and culture the way we previously covered these topics" I see that as a polite way of saying so-long. It's surely disappointing news for arts organizations across the region, but it's unfortunately not surprising.
Why does any of this matter?
Aside from the sad fact that there will be less local news reporting of under-covered stories in the San Francisco Bay Area, the implosion reveals the on-going struggle to identify next-gen profitably models for online publishers.
One of the hardest businesses to be in right now is independent publishing. Online media. Web publishing. There's a variety of terms for the new world of news reporting – local or otherwise – but all of them face the same challenge: how to make money.
Being in Silicon Valley one could draw a parallel with tech start-ups. For them, however, there is a precedent of how to achieve growth and to ultimately make money: funding rounds are closed; investments made in engineering, sales, marketing, ops; new products are launched; and, hopefully, new customers are secured. In media, there's no hope looking to the past. Clearly, we all know to well, what worked before is sure as hellfire not going to work today, and especially tomorrow.
From what I've seen over the years, there's essentially 3 basic ways to make money for publishers be it The Bay Citizen/CIR, Berkeleyside (upstanding), or even Stark Insider:
1. Run Ads – Chase pageviews
This is the most common approach; the publisher runs ads on their site, and does all it can to attract readers, who in turn generate page views, which generate impressions that lead to revenue. And if you cover the right stuff, and are able to ring through the noise with a unique voise, the pay-offs are mind-boggling- though tantamount to winning the lottery. The Huffington Post sold for $300 million to AOL. TechCrunch for about $25M or so to the same company. Mashable has been rumored to be in talks with CNN for a $200 million deal. These, of course, are exceptions (and ratify the country's thirst for political banter and tech blogging), and I'm assuming acquisition is the end goal, but that's not the case for most local news sites such as The Bay Citizen.
2. Put up a Paywall, full or partial
This could very well be the future, at least for premium brands such as the NYT, WSJ, and quality magazines such as TIME, The New Yorker, among others. With so much freely available content – a lot of it impressively researched and in-depth – the pay-for-content approach is even challenged in the hands of the titans of publishing. Plus, there's the societal shift in mindset when it comes to paying for these kinds of services. We like monthly all-you-can-eat plans. Netflix and Hulu figured this out with video. A new project called "Next Issue" backed by Conde Nast and Hearst is testing the waters for exactly that type of model, but for magazines. You pay one monthly fee and get access to a portfolio of all-you-can-eat content (in this case, including TIME, The New Yorker, Sports Illustrated, and about 20 or so other titles).
3. Go the Donation route
Call it the PBS way. The Bay Citizen opted for a donor model. As far as I can tell, along with an initial investment pool (reportedly around $7 million, though I've even read that follow on investments brought the figure close to double that), the goal was to achieve break-even as quickly as possible by signing up "members" who essentially donated on a recurring basis.
I really don't like this type of top-down model. It's simply not sustainable.
As soon as you raise the initial funds, be it $7 million or whatever the number, you're on death watch. You're flush with cash, so you go hire reporters, lease office space, invest in a new web site, ramp up email marketing, seed a small video production unit. Before you know it, overhead is at serious levels. The math is simple. Divide the cash available by those new monthly expenses (burn rate), and you've got a (granted, a tablecloth) calculated estimate as to when the well will go dry.
Meantime, while cash goes up in flames, the staff is on a doomed mission of asking for hand-outs, ultimately chasing their tails. DONATE buttons populate the site, and in an ironic twist, devalue the team's good efforts by implicitly suggesting that their work is not worthy of real subscriptions. It's as if they're saying, "Hey Bob, buy me a cup of coffee and I'll give you an interesting scoop on what's really going on behind-the-scenes at the local school board." Or, if all else fails, TBC can revert to its all-time favorite calling card: Marijuana!
There's a well-intentioned do-goodness community angle to the donor model that feels right, at least in theory – and its proven itself for non-profit arts organizations for decades. Us Bay citizens donate, and in return for giving, our communities are strengthened thanks to the additional reporting, exposes, editorials on stories that might not otherwise get picked up by the San Francisco Chronicle or San Jose Mercury News.
Post-CIR merger, that mindset may be changing. Already ads are running on the site. And, dare I say, they actually make The Bay Citizen look better, more legit. The new leadership team is tightening focus. You can't be all things to all people, all the time. That means non-profitable beats such as the arts get, once again, demoted to the bottom of the priorities list.
This won't be the last time we'll hear about change; experimentation, new ideas are the order of the day. The big guys like Conde Nast, and Hearst are in as much pain as the smaller players. We don't know how this will play out, and in fact uncertainty regarding the prospects of publishing may be at an all time high.
This, I do know: It's never a happy day to see yet another newsroom shrink, and hard-working writers get let go.