Twitter. Facebook. Google. All three get the star treatment in A.C.T.'s West Coast premiere of Maple and Vine. Call it a social trifecta for the stage. Google, in particular, plays a prominent role in the plot, where the very word itself threatens the stability of a community. How exactly is a secret I won't reveal, but, yes, words do matter. This night would mark the first time I'd be privy to "the comma and the condom" story (see end of review for that).
Stressed, overworked and burnt-out, a young city-dwelling couple (Emily Donahue, Nelson Lee) receive a most unique invitation from a stranger: to live in 1955. It seems absurd at first. A world with no Internet, no sushi, and no Hillary Rodham Clinton (oral sex)? C'est impossible! But turns out that stranger, Ryu (Jamison Jones), is a world-class salesman – the kind you might see post-world-war II hawking used Buicks. He sells them on the dream of a simpler life; distraction-free living where families can spend more time together.
Enter 1955. Where you "go places" and "talk to people."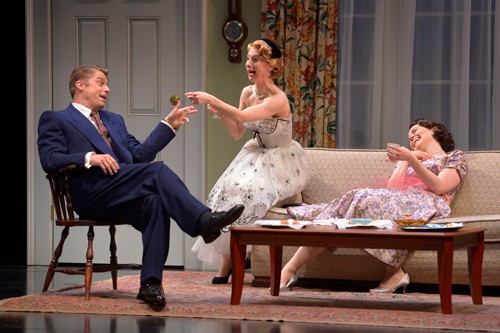 In the second act, the couple joins the "Society of Dynamic Obsolescence" – a rural, fenced-off community where everyone acts, dresses and talks like it's 1955. Smoking and drinking are the rigor. Cell phones are verboten. And Miso, Chipotle, and hummus are never to be seen again.
One neat trick about this new work (Jordan Harrison) is the decision to treat the audience as recent inductees into the SDO (or is that a cult?). I'd imagine it might be a bit like joining Scientology, when the rules, goals and extraordinary benefits of committing are all passionately explained. Be careful you don't try to reach for some Red Bull. We learn an authenticity committee is charged with keeping the neighborhood "period appropriate."
Along with the good, however, comes the not so good. Racism and sexism run rampant. And there's an interesting twist on homophobia.
You really razz my berry!"
I should note that true to form the A.C.T. sets are majestic. We get the full-on treatment of cityscapes, offices, and homes. The Breakfast at Tiffany's like view of New York is impressive, and I found myself wondering how the designers pulled that off. It's gloriously detailed, and features tremendous depth, realism. If there's one caveat, it's that a massive set like this can overwhelm; several times during the first act while I marveled at the beauty of the background, I realized I wasn't focused on the actors.
Maple and Vine is the kind of new work that could make for a terrific screenplay. There's a crisp balance of comedy and drama (with superb pacing by director Mark Rucker), and plenty of opportunity for entertaining pop culture references. Plus, it plays the nostalgia card, while engendering itself to the Social Media crowd. Alec Baldwin could be a ringer for Dean, the community leader. In fact Jamison Jones reminded me several times of the Words with Friends aficionado.
You can live in color, but I have one question: are you ready for some backseat bingo?
Twitter. Facebook. Google. Theater social trifecta! All 3 get star treatment @ACTSanFrancisco "Maple and Vine" https://www.starkinsider.com/2012/04/you-can-live-color-maple-and-vine-review-san-francisco.html

— Clinton Stark (@clintonstark) April 9, 2012
The comma and the condom

At intermission, my Loni lost control of her iPhone and as we stood it went tumbling forward. It bounced off the head of the women seated in front of us, who promptly yelled out "Owwww!" Uh-oh. That's never happened to us. We quickly apologized, then scrambled frenetically to locate the social media twanger. Thankfully she said she was fine, jokingly scoffing at her wounded pride. It wasn't long before we struck up a conversation. They were enjoying the show immensely. Turns out they were both former school teachers, like my parents. Herce explained to us how she enjoyed teaching her 5th graders the importance of the comma: It's placement, it's careful use, it's ability to change the tempo of a sentence or story. The comma was magical she said. In fact, it was so important to her students that it would change their lives. Later, she became a sex-ed teacher. There, she explained, she taught the importance of the condom. Turns out, it too could change their lives. She called it "the comma and the condom" story. I guess you really had to be there. Ah, the theater, good times…