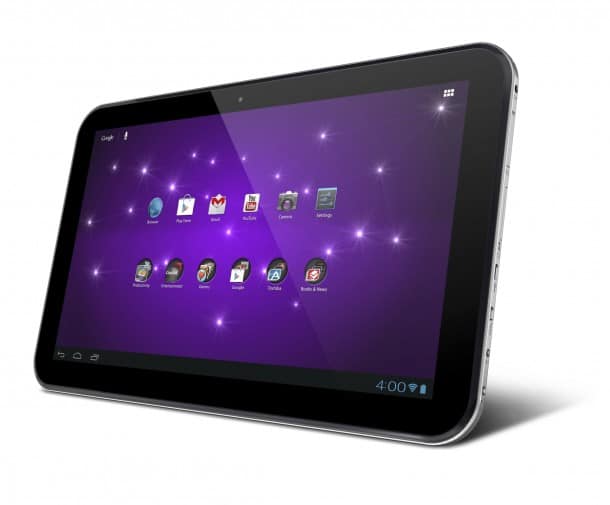 How big is too big? Toshiba took the wraps of its new Excite series which includes a new 13.3-inch beast of a tablet running Android 4.0. While many manufacturers are going smaller, launching 7-inch models such as Amazon's Kindle Fire, and Samsung's Galaxy Tab series, Toshiba could very well be testing the market for those that want to super-size their tablet experiences.
Weighing in at over 2 pounds this thing is heavy, even weighing almost as much as some ultralight laptops. Specs are top end, but not unlike what we're already seeing in today's premium Android tablets: Nvidia Tegra 3 quad-core processor, 1GB of RAM, 2MP front/ 5MP rear cameras. The screen is of course the piece de resistance: IPS panel with 1600×900 resolution. Still, that's short of market leading iPad's new 2048×1538 retina display.
"One size does not fit all, so we are carefully considering how and where people are using tablets and designing form factors to best suit various needs," said Carl Pinto, vice president of product development, Toshiba America Information Systems, Inc.

We're told the Excite 13 will arrive this summer. Pricing starts at — make sure you're sitting — $650 for 32GB. Quite a precocious move considering this puts Toshiba's new over-achiever at $150 more than Apple's entry iPad.
I'm going to go out on a limb and suggest the Excite 13 is not going to sell well for these reasons:
It's too big, too heavy – tablets are supposed to be portable, hence their popularity for reading, watching movies or gaming on the go
As mentioned, it's way too expensive
There's fundamentally nothing different about the specs, or experience – Samsung Galaxy Tab, Asus Transformer Prime, or even Toshiba's own upcoming Excite 10 (a palatable $450) seem like better options
To be fair, the Excite 13 does have one advantage: screen size. So, yes, I concede this could be a strong contender for multimedia playback around the home. The inclusion of SRS Surround doesn't hurt either. Battery life will be a big question mark. Given the overall heft of th device, though, I would not be surprised to find a beefy battery. Toshiba claims it will deliver 13 hours on a charge and 7-days of standby. If those results come to fruition then color me impressed.