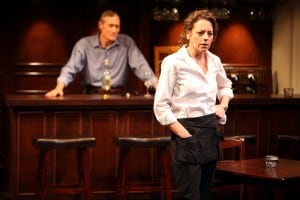 Have you ever experienced a moment — the moment — in your life when everything changes? Looking back at that particular sliver of time, perhaps you now realize the magnitude little actions can have on not only yourself, but also those around you. It could be a spontaneous decision, a happy (or not so happy) accident, or just fate doing its thing. Inflection points matter, but in Any Given Day, a Scottish play that premiered Stateside at Magic Theatre over the weekend, we are privy to their domino effect – parallel lives and all. There could be tiny resemblances here to Sliding Doors, an indie flick starring Gwyneth Paltrow from a few years back.
And, yes, I will go there (any opportunity for a Mike Meyers is one no self-respecting Canadian should discount): if it's not Scottish, it's crap. Indeed. We get a marvelous gem of a production here featuring a stellar cast and dialog that absolutely doesn't feel like… well, dialog. These four characters –unlikely pairs — converse in a way that can only be described as crackerjack.
"Who are you waving at?"
Sadie (Amy Kossow), a large woman with a learning disability who jumps at shadows, and friend Bill (Christopher McHale), a thunderbolt of positive energy, might be going stir crazy in a small Glasgow apartment. The jarring, disjointed wallpaper and dark stains around the door handle and buzzer could be clues Short bursts of conversation lilt from stones that might bite, and bread that may or may not be in the freezer, to death and tea. They pass the time, awaiting a visit from their favorite person.
"I"m having a good day and I don't know what to do with it"
Meanwhile, somewhere across town, a bar owner (James Carpenter) and one of his employees (Stacy Ross) celebrate a "good day" after-hours with a nice bottle of Sancerre.
More Bay Area Stage

San Jose Rep adds 'Disconnect' to 2012-2013 season

'Of Mice and Men' a profound gift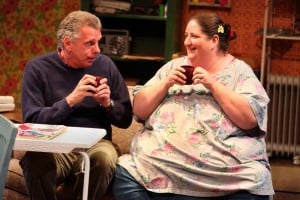 These seemingly abstract scenes share a connection. Its nature and consequence we learn is the central moment.
Rain pelts, and thunder cracks. And I admit to almost jumping out of my seat once or twice. There's some unexpected drama here, juxtaposed against the playful innocence of normal everyday life.
This is the great Jim Carpenter's first time on the Magic stage, and those that follow Bay Area theater know he's a stalwart icon. For that alone, this production is not to be missed. Funny how he can't help but slip into a Shakespearean-inspired delivery here and there – that is one regal barman. Stacy Ross, Amy Kossow and Christopher McHale are equally impressive, and the chemistry is top drawer. On opening night, Patrick Alparone stepped in for Daniel Petzold to play the role of Boy. I don't want to be crass, but what's it like explaining that part to your friends? I drop some f-bombs, I whip this thing out… and then I chase…
A Magic Theatre trademark is their open set changes. I can't recall ever seeing a curtain here- and it likely wouldn't make sense anyway given the thrust configuration. Watching the stagehands change out the set in a bit of theatrical ballet is something I always enjoy watching. Such was the case again. There's a rain effect here that is mind blowing – it sets our minds racing, our hearts pumping. The following darkness and quiet are welcome relief. It's a good day, but it's certainly not ordinary.
Stones don't bite in 'Any Given Day' @MagicTheatre – Humor, courage, Sancerre plus James Carpenter. https://www.starkinsider.com/2012/04/stones-dont-bite-any-given-day-review-magic-theatre-san-francisco-news.html

— Clinton Stark (@clintonstark) April 13, 2012