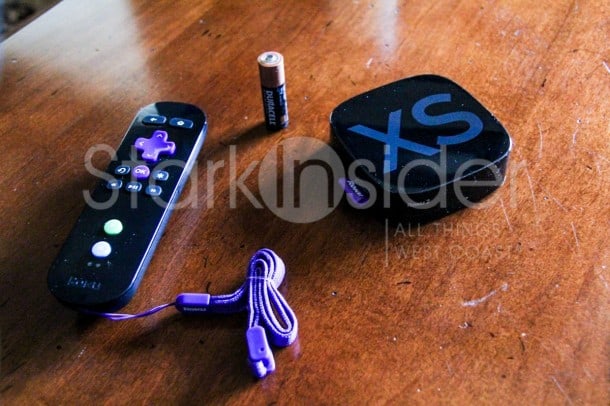 With the epic cloud battle for your gigabytes now well underway — Google Drive, Microsoft SkyDrive, Dropbox, et. al. — it's easy to lose sight of that other massive struggle for domination: the one for your living room. This is the land of the XBOX360, PlayStation 3, Apple TV, and before that a legion of roadside carnage. Web TV, anyone? Roku, thankfully, is among the land of the living, and though its roots are originally in music streaming, all of its new offerings are laser focused on bringing streaming content to your TVs with minimal fuss. The Saratoga-based company sent us their top end Roku 2 XS Streaming Player. Retailing for only $99, I'm stretching the definition of "top end" and illustrating one of its immediately likable qualities. In a world of so much choice, though, how did it perform? Here's the Stark Insider test.
Roku designs and builds quality components. Back in the day I owned a M1001. The thing lasted forever and a day. I've since moved onto to Sonos for streaming tunes, but I always tend to equate robustness with Roku. Such is the case with the XS. Typically plastic, yes, but solid as a …, well, as a hockey puck. It's not Marantz build, mind you, but all the ports — ethernet, HDMI, A/V, USB and power — are all sturdy and not likely to cause faults in the future. Out of the box I was shocked at how tiny it is. You're not going to need much space for installation. In fact, the XS is so small my mighty (overly thick) HDMI cables kept threatening to flip the 3 ouncer on its head.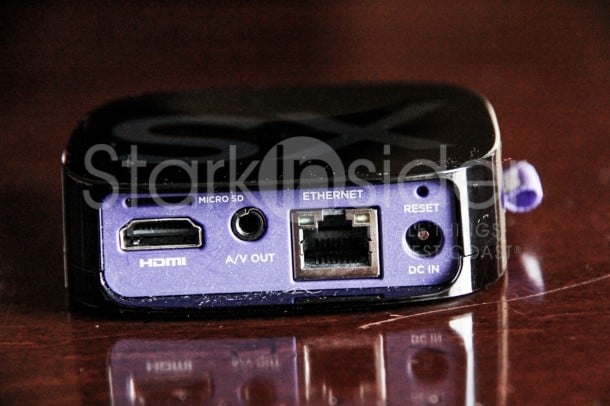 For some odd reason, Roku is big on purple and black. It might have to do with their family-oriented ambitions. That I got the case of the Barneys was likely no accident. Luckily, unlike the entry $49 LT "purple box," this one is mostly black.
One of the strengths of Roku is the sheer number of services it supports. That comes at a price during setup. You'll need a laptop or tablet of some kind to get through the setup which requires jumping back and forth between the setup screen that issues codes that then to be entered onto a web site. Fortunately you only need to do this once. In my tests, I setup Netflix and Amazon Instant Videos, two of my favorites. Roku also bundles in a generous amount of channels which you can install. In this case I added Wall Street Journal and NBC News.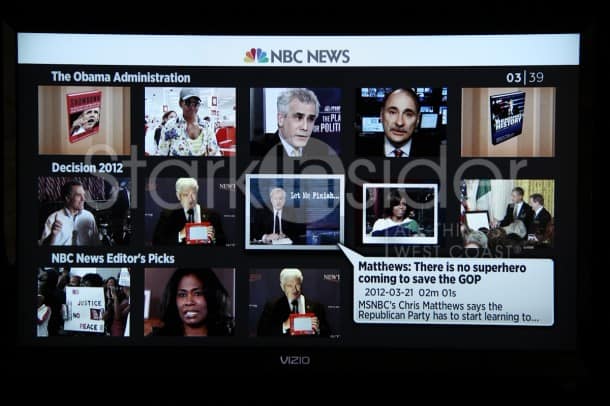 Spec-wise you're not likely to be wanting. The XS supports up to 1080p, passes through 5.1 surround and features a microSD slot for adding more storage or games. A quick note: you will need a receiver that supports Dolby Digital Plus Surround Sound to get 5.1 on Amazon Instant Video. The plus is key. My 5-year old Yamaha is plenty powerful, and supports LPCM, and passes through just about anything I throw at it via the PS3. However, it would not play nice when it came to surround. Instead all I got was Poltergeist static.
I like the interface. Very much icon driven, you simply scroll left or right through the various services. Netflix and Amazon Instant Video both appeared similar to their PS3 counterparts. But I found both those services ran smoother on the game console, and provided more information to boot. However, for ease of use Roku's approach is spot on. Power mongers like myself will want more speed. But, you know what? You and I aren't necessarily the target market here – we're building out HTPCs and streaming via XBOX360, etc.
Because the remote is Bluetooth based there's no old school line of site to worry about. A bit toyish in the hand, the remote could be a distant relative of the Wii. In fact, it also includes a (garishly purple) wrist strap just like the Nintendo.
For my test I chose the instant classic Tucker & Dale vs. Evil (see Amazon Instant Video review). What's not to love? These hillbillys are just misunderstood do-gooders. Could they be the anti-hereos and end up with the hot-in-distress-babes-in-the-woods?
I queued up the horror comedy on both the PS3 and the Roku and switched back and forth. I tested on both a 1080p 32-inch Vizio and a 720p 120-inch Panasonic projector. "You guys goin' campin'?" Picture quality is quite good. I have no complaints.  Keep in mind this is a bit of an unfair comparison as the Roku is substantially cheaper than the PS3. Yet, to my surprise, it performed remarkable well. Pausing, and jumping ahead or back was fast enough. Overall, the Roku 2 XS packed a punch when it came to streaming quality video and sound.
The real bonus with the Roku is its depth of channels. Streaming NBC News and WSJ were just further proof of why satellite/cable are dead. Streaming is here and now.
Apple TV is likely to be cross-shopped the most. Price is identical, and, obviously, Apple has a huge advantage with an ecosystem that includes its own devices married to a wealth of content via iTunes. Depending on your wish list, though, Roku may come out on top thanks to its native (i.e. non jail-broken) support for top tier services such as Hulu and Amazon Instant Video. Both support Netflix. If gaming is important than Roku is the only way to go, as Apple TV does not do Angry Birds, or any other game.
Roku 2 XS impresses. This is an agreeable solution for bringing a wealth of content to the living room, a spare bedroom, or the cottage with minimal fuss. It's so tiny you could even throw into a bag when you vacation. Performance-oriented aficionados will look elsewhere, but that's okay, Roku is aimed squarely at Mainstreet USA. And as a crowd pleaser, it's easy to recommend, especially at under $100.
4 out of 5 stars