Tony Stark (no relation), no doubt, is armed with an Asus Transformer Prime. A hybrid laptop and Android tablet, its surfaces are so precisely machined, so perfectly proportioned and so aesthetically retro-modern, that I can only hope this represents the future of portable design – or, heck, just design in general. Like Stark there are several personalities at play, and it can be hard to pin down what exactly makes the Transformer Prime so agreeable. But I'm game.
Asus sent us a unit (TF-201) along with the mobile dock keyboard and I've been using it for a few weeks now. This really is two reviews for the price of one: a 10-inch Android tablet, and a 10-inch netbook reminiscent of those that were all the rage just a few years back (save for the touchscreen capability).
There's really no surprise, and I'll just go ahead and state it right up front: the Asus Transformer Prime is the best Android tablet currently available. If you are in the market and looking to spend around $550, this runs neck-and-neck with the iPad for consideration. Not everything is roses, though. While the hardware shines, when it comes to Ice Cream Sandwich and app selection (more on that later), weaknesses come to the fore.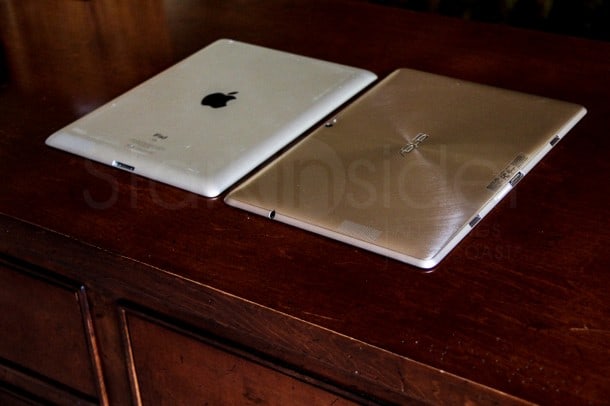 With the quad-core NVIDIA Tegra chip and 32GB RAM on our tester, the Prime flies. Compared to a Samsung Galaxy Tab 10.1 – my previous hero tablet – there is no contest. Opening apps, browsing the web, downloading updates on the Play Store, watching videos, dragging widgets… you name it, everything is faster. At these speeds, the Android tablet experience is almost brilliant. Opening the CNN app on the Tab is an exercise in frustration. With Prime, there is virtually no lag. Headline: "White House makes case for Buffett rule." Watch out Alex Rodriguez.
News360 is my go-to reader for the morning news. Side-by-side against an iPad 3, Prime held its own. Performance was crisp, and opening sections such as Tech, latest news, sports, are similarly quick on both devices. I still prefer the responsiveness of the iPad, however. And that continues to be an Achilles heel of Androids in general. Gestures on the iPad (and iPhone) are akin to gliding in a kayak on a still sheet of water. Android, on the other hand is a rowboat in choppy seas. While that may be a slight exaggeration, there's no question that Apple has perfected the art of the touch.
Much as been written about the Retina display. I agree that it's the best on the market. Still, I was surprised at the quality of the Transformer's 1280×800 display. That's the same resolution as the Galaxy Tab, but you'd never know it with the two units side by side. Asus has a winner on its hands when it comes to precision of the display. Pixels are hard to detect (though much more readily apparent than on an iPad) and text is crisp, easy on the eyes. I was impressed. No, I'm not about to suggest that it can go toe-to-toe with the new iPad for extended reading sessions, but this is a display that you could easily live with for years.
Design-wise I would prefer a narrower bezel. True, you need a place to hold the tablet, but compared to others, the Prime's black surround is wider. Not by much, but it's enough to remind me of those overly large bezels we used to see on netbooks, and the claustrophobia that ensues when feeling boxed in.
Expansion is an advantage when it comes to Android in general. While Apple seals off the iPad, enabling expansion (camera, USB) via a dongle, this Asus offers better connectivity including a built-in micro-HDMI port, micro-SD card slot.
Adoption rates aside (fragmentation, anyone?) I like what Google has done with Ice Cream Sandwich. Finally the OS is starting to feel cohesive, and there's even an artistic flare beginning to emerge thanks to things like the new Roboto font, elegant settings menu, and much-improved (though poorly named) Play Store. Like a lot of manufacturers, Asus has tweaked the UI slightly, in an attempt to differentiate. Thankfully what they've done here with the Prime doesn't annoy like it does on some of the heavy-handed skins we've seen from HTC (Sense) and Samsung (TouchWiz). Asus bundles a simple weather widget, some custom apps, and for some inexplicable reason chose to give the notification window an odd purple treatment. But overall this is a great experience, and almost pure Android.
Now, the fun part.
Pop the Prime into the mobile docking station and, just like that, you've got an ultra-cool, lightweight touchscreen enabled laptop.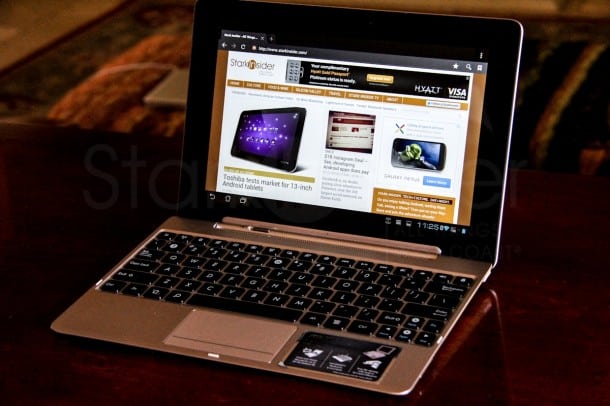 Well, sort of. This, of course, is still Android, and you're not going to be running Adobe Creative Suite any time soon on this setup, but that's not the point. For web browsing, email, social networking and other simple tasks I found the setup to be ideal. It's convenient to have the option to use a gesture (pinch and zoom a photo for example) or the keyboard (for Gmail) depending on the task at hand. Anyone who has paired a Bluetooth keyboard with an iPad or other tablet knows this can make for a blissful portable computing experience. When you're ready to roll, just close the lid like any normal laptop and you've got yourself the coolest hybrid netbook on Planet Earth. Best of all, you can go without A/C for 18 hours thanks to the additional battery located in the keyboard dock. I was able to successfully a couple of Bluetooth mice we have around the office without a hitch. It's a bit of a hoot to see a mouse pointer on the Android screen. It definitely feels old school.
Cramming a keyboard into such a tiny shell does have downsides. For one, the keys are small. You'll need to adjust your finger span to accommodate the tight spacing. It's manageable, but takes practice. Also the bane of netbooks everywhere is that truncated right shift key. The arrow keys really ought to be located below, like… a MacBook Pro for instance.
One other minor point when the Prime is docked to the keyboard: opening the clamshell requires two hands. For some amazing reason, Apple has figured out how to enable a one handed open, even on its smaller Airs. This may not seem like a big deal. But day-in, day-out, these little conveniences matter.
The big question: Why?
Why do we need an in between part-tablet, part-netbook device, and why would I buy this over an iPad or a full-blown laptop?
That is the 64-million dollar question and I'm not sure I have the answer.
When I travel, I bring along my MacBook Pro and a tablet (either an iPad or the Samsung Galaxy Tab). If I want to get serious work done I absolutely have to use a laptop, which means I'm on my MBP 95% of the time. Reading, and catching up on news is a pleasure for after hours, or early morning, and tablets do that with aplomb.
If I were heading up to Napa, or meeting up at a coffee shop with some friends, the Transformer Prime might be perfect. It's small enough to stow away, yet is a full-blown netbook (sans Windows) with decent keyboard when needed.
Then there's the price.
You'll pay in the $550-600 range for a TF-201 as we tested here, plus almost $200 more for the mobile dock. That's over $800 total, and pushing into ultralight notebook territory. It's an expensive proposition. Cynics might suggest that Netbook Redux isn't quite what they had in mind: some assembly required, limited OS, twice the price.
Why iPad?

Apps
More responsive
Easier to use

Why Transformer Prime?

More powerful (Tegra 3 quad-core)
Customizable desktop (widgets)
Best-in-class integration with Google apps/services
Apparently Asus has a new model that we should hear about this month. I'd keep an eye open for deals on the Transformer Prime when the prices eventually drop. Also, word is Google has chosen Asustek to build its forthcoming Google Tablet. That's a smart choice; the combination of Google software, and Asus hardware is a winner. But for overall experience, app selection, and performance, it's still really hard to beat the iPad, though the Transformer Prime is the closest I've seen yet. Just ask Tony Stark.
In Photos: Asus Transformer Prime TF-201