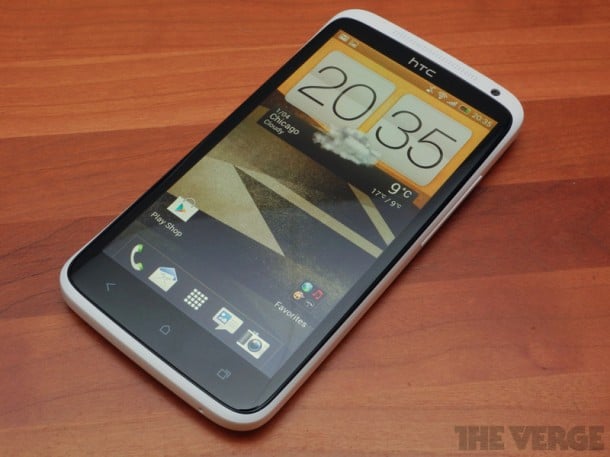 HTC One X reviews have landed. They're long and comprehensive, alright, but do they shed any light on which Android smartphone is worth the upgrade over the next few months? Let's take a look.
I'm still on OG Droid on Verizon. Try hard not to laugh. How can it be that I'm still running a mobile device coming up now on 30 (!) months old–that's George Burns territory. And you could say just as spry and entertaining as ever. The Motorola Droid, the one that really kicked off the Droid Does mantra in November 2009, proves it's hard indeed to keep a classic down. I could've jumped to the Galaxy Nexus last year, but slick design aside, unfortunately the Samsung flagship underwhelmed with its disappointing battery life. I expected all manner of quad-core madness at CES, then MWC. None came to pass. Fortunately I've been able to enjoy the benefits of a rooted (but sim-less) S2 running Ice Cream Sandwich (ICS aka Android 4.0). Speaking of classics, it's got to be one of the best smartphones out there.
HTC is not the only one bringing firepower to the Android party. There's also Moto with its upcoming Droid Fighter. And, of course, Samsung's greatly anticipated S III – a favorite amongst Apple's legal team.
So, what's a would-be upgrader — or possible iPhone 4/4S convert — to do?
The HTC One X was heavily hyped, and as you can see in the reviews today, is seen as somewhat of a "reboot" of the brand. Many, including myself, aren't fans of the Sense overlay that HTC adds, possibly ruining the fluid, pure experience that ICS provides.
Only in England, you say? True, yes, only our friends overseas will be enjoying quad-core performance. Nevertheless, if you're in the market the HTC One X should be on your shortlist when it hits North American shores in the months ahead.
The Verge said if it weren't for that little nonsense that HTC ships called Sense, "you've got the best smartphone ever made." It thrashed the Nexus in a series of tests, besting it by 100% in some cases. "I can't lodge a single complaint about the One X's performance."
I was particularly impressed, though, by the close-up of the One X display, which according to this shot on The Verge site, looked impressively Retina-like: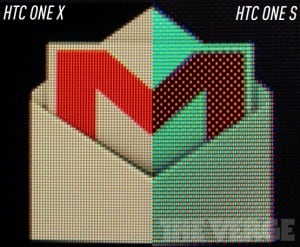 Score: 8.4.
Slashgear had this to say in a rather by-the-books-sir review:
"The new flagship is distinctively designed and well constructed, has an admirable camera and a solid screen. The Tegra 3 chipset is capable of both speed and endurance depending on what's demanded of it, particularly gaming and HD video, though the non-expandable storage could prove limiting if your connection isn't up to streaming from cloud storage such as Dropbox."
CNET wonders if it's — oh, brother… please — a "Nexus Killer" and awarded it 4 stars: "The One X is a phone for a specialist group of gadget fiends with big wallets and high power requirements. Unfortunately for them, the price of all that power-draining tech appears to be less than stellar battery life."
Not exactly ringing endorsements. And what's this about "specialist groups?
Net-net: a solid phone, but not earth shattering stuff.
In fact, as I look at ICS running in front of me on a rooted Galaxy S2, with the brilliant Apex launcher I have to wonder if I haven't already got the perfect Android. Except for one problem. It's sim-less. And AT&T would be my only option, which would require forgoing my grandfathered unlimited data plan on Verizon. No can do.
For now I'm scratching HTC One X from the upgrade list.
That leaves two mighty choices, upcoming:
Motorola Droid Fighter
and
Samsung Galaxy SIII
I'm partial to Moto, and the whole designed in America thing, especially given my good fortunes with the robust, trusty OG Droid. But that S III might just be one for the ages. We'll see.
HTC One X Reviews:

The Verge (8.4/10) – "the best smartphone ever made" … if it weren't for HTC Sense.

Slashgear – "a capable phone."

CNET (4/5) – "less than stellar battery life."