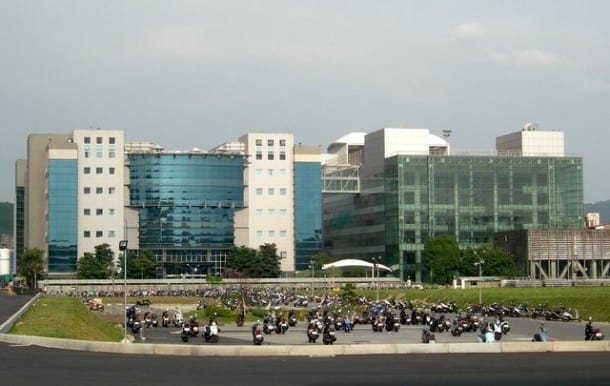 Misery loves company, and RIM now has HTC to thank. Both smartphone makers are bloodied and bruised. HTC Corporation (TWSE: 2498) just released its Q1 numbers, and the results are, in a word, ugly. Revenue down 35% y/y to $151 million USD. Profits down 70%.
HTC, the #5 handset maker, trails Samsung, LG, Apple, and Motorola here in the US, and has assaulted the market with a dizzying array of models. Too many say some, with not enough emphasis on so-called "hero" models that given enough marketing push can help put a dent in the iPhone's commanding lead. Samsung has done well in that regard with its flagship Galaxy S II handset, its best-selling model ever. HTC hopes to achieve similar results with the "One" launch which includes the X and S models.
Unlike past years, Chairman Cher Wang did not make an appearance in an uplifting video, and there was scant (i.e. no) information that I could find on unit shipments. The entire release consisted of one paragraph and this chart: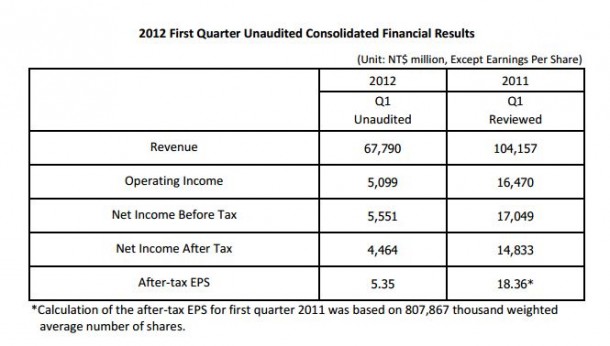 Part of the problem is the number of Android handset manufacturers. There are a lot of them out there. HTC has attempted to differentiate by adding an overlay — or "skin" — called HTC Sense on top of the pure Android interface. Others have done the same, notably Samsung with TouchWiz, and Motorola with Blur. If manufacturers can't provide a compelling, unique experience, then price quickly becomes the hot point for consumers. Downward pressure is not a good thing for HTC. Conversely, Apple and its vertically integrated (closed) model can command a premium for the iPhone's high-end design, and rich universe of apps.
Taiwan-based HTC may be down, but the game is far from over. Don't forget, this is a company that came out of no where. Just a few years ago no one had heard of HTC. Their "Quietly Brilliant" campaign and well-received handsets such as the Eris, and more recent Rezound prove their innovative prowess. HTC chief financial officer Winston Yung emphasized in a call earlier this year, that the company would "focus."
Microsoft and Nokia, in the first major test of their high profile partnership, are making waves with the Lumia 900 launch. The slick Windows Phone is receiving favorable reviews, and at only $99 on AT&T could grab significant low-end share. That could leave HTC (and possibly Motorola too) in no man's land, squeezed between bargain hunters and those willing to pay a premium for flagship models such as the iPhone.