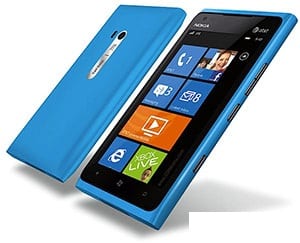 Nokia's flagship Windows Phone is just weeks away. AT&T will launch the Lumia 900 in black on April 8 (white version, April 22).
Many have praised the handset, which will be AT&T's first handset to run Windows Phone, and see it as a strong answer to more expensive offerings from Apple and Android manufacturers.
The Lumia 900 will go on sale for only $100 with a two-year contract. That's up to 67% less than much of the higher end competition which includes phones like the Samsung Galaxy Nexus ($199, Verizon Wireless), Motorola RAZR Maxx ($299, Verizon), and the iPhone 4S ($199, AT%T).
At stake is the battle for mobile market share. In recent months, RIM has stumbled and seen significant market share losses (even losing out to Apple in Canada, its home base) creating opportunity for others to sign up new customers.
After years of hype, Microsoft appears finally ready to launch Windows 8 in the fall. Unlike iOS and Android, the same version of the new Microsoft mobile operating system will work on both tablets and smartphones. While the company is late to market, if CEO Steve Ballmer's vision comes to fruition consumers might welcome an easy-to-use, low cost option from a brand they know well (but do they trust?).
One huge question remains: will developers flock in significant numbers to the platform and satiate consumers' thirst for apps?
The Nokia 900 should give pundits a good perspective on Microsoft's mobile strategy and its much publicized partnership with Nokia.
Couldn't be more excited to bring the #lumia900 to @att at an amazing $99 price. Can't wait til April 8!

— Chris Weber (@CWeberatNokia) March 26, 2012
Nokia Lumia 900 specs:
4.3-inch, AMOLED Clear Black display
1.4GHz processor
4G LTE network
8MP camera with Carl Zeiss lens –  large aperture (F2.2), wide angle focal length (28mm)
1830 mAh battery
Available in black, cyan (April 8) or white (April 22)
$99.99 with two-year AT&T contract