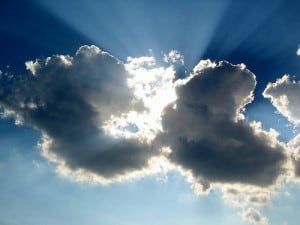 Google has bumped the free storage limit for Docs users to 5GB. While still a few gigabytes shy of Microsoft's SkyDrive (7GB), it does put the cloud service on par with Box (also 5GB) and ahead of stingy Dropbox (2GB). The storage increase comes ahead of the much speculated "Google Drive" cloud storage announcement, widely expected this week. According to Venturebeat, Google has been working on the project since 2007 with CEO Larry Page pushing for it to be named "G Drive." How perfect!
Yes, this is most definitely cloud (storage) week.
Yesterday, Microsoft upped the ante with a preemptive strike against Google with an update to SkyDrive. With 7GB (sadly, down from 25GB) of free storage, slick integration with Office, and a quota that doesn't double dip like DropBox (who counts shared files against all participant's quotas) SkyDrive impresses. Particularly peachy it its remote file access feature. As I wrote in this review, with a few clicks you can access all of your desktop files/folders via the browser.
Google, like Microsoft, is making additional storage available on the cheap:
20 GB $5/yr
80 GB $20
200 GB $50
400 GB $100
1 TB $256
Those prices undercut Microsoft SkyDrive by about 50%, which in turn significantly beats out Dropbox, Box and others when it comes to low cost annual storage rates. Would I pay $20 a year for 80GB of extra storage pooled across all my Google services (especially Gmail where I'm maxing out)? I say yes. Less than $2 per month for a world of convenience is not a decision that requires otherworldly consultation. Note that currently Google offers storage specific to each service. So Gmail storage is separate from Picasa which is separate from Docs and Google+. Interestingly, Google even goes all the way to 16 (!) TB of cloud storage for any of its services – that'll cost you over $4k per year.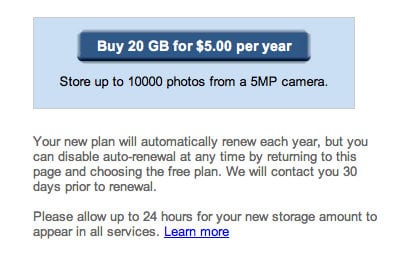 Why all the hoopla about hard drives in the sky?
For vendors, it's all about a lock-in of sorts. Not the sort-of contractual lock-in, or technological lock-in – all of these services are generally pay-as-you-go if you upgrade and users are free to download files at will. The trick here is that Microsoft, Google, Apple and others want us to to do our everyday work and living on their platforms. This is where Dropbox, Box, SugarSync and other start-ups could face head wind. I'm big into Google. Gmail, calendar, search, maps, Android, and on and on. If Drive, or "G Drive," comes to be as we expect, it'll be a slam dunk for my cloud storage provider of choice. Microsoft shops, or those that spool up never-ending PowerPoints and Word documents, will likely gravitate to SkyDrive for a similar reason: convenience. Over time cloud storage will become simply a feature, not a defining quality. There are some exceptions, such as specialized, highly secure storage networks designed for distributed enterprises, or niche-specific apps – possibly for video production or medical imaging or other storage-intense applications – where vendors could potentially differentiate themselves against the platforms. Any dreams of a subscription pricing model, I believe, will be short-lived, as Microsoft, Google, Apple, and Amazon pressure the little guys – and don't forget, this is also about content. Your content combined with their content. Again, the aforementioned platform players are well-positioned to eat this space.
Any dreams of a subscription pricing model, I believe, will be short-lived, as Microsoft, Google, Apple, and Amazon pressure the little guys
For consumers, it's clearly about convenience. Part of that need is driven by the proliferation of device types. That, in conjunction with cheap storage and fast, widely available Internet has made remote storage a pragmatic reality. Regardless if we're reading on an iPad, or streaming video on an Android smartphone, or working on a document on our laptop, we can now be gloriously connected to one hard drive to rule them all. For that reason alone, we could see less emphasis on local hard drive storage as a quantitative feature. Does it matter as much for most of us if your laptop has a 512GB supersized drive, or would you rather have a high performance, instant-on 128GB SSD?
These are the early days of a new platform battle taking place in the sky. Apps. Content. Storage. Mobile. A perfect storm. Who will emerge as the leaders in this epic nextgen struggle for tech supremacy: Microsoft, Google, Apple, Amazon … ?